Spring 2012
Foreign students: Groningen is the best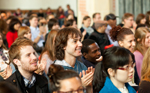 According to international students, the University of Groningen is the best university in the Netherlands. This can be concluded from the latest International Student Barometer, a worldwide survey of international student satisfaction from which the University of Groningen emerged as the university in the Netherlands they are most likely to recommend. read more ->
From Russia with love -meet alumna Berdien Staats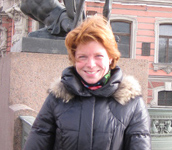 Teaching Dutch to Russian students in the beautiful city of St Petersburg, is an ideal opportunity for me to spend some time in the country that has always held a great fascination for me. Admittedly, I had my reservations about the severe Russian winters, but I found that one can get used to that.
Just as one can to daily life here, in a society that is so very different from ours. For, despite the fact that St Petersburg feels very European, there are significant cultural differences.
Meet alumna Berdien Staats.
read more ->
9 handy hints on how to become a successful researcher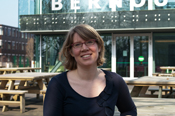 Warning! There is every chance that you will become a successful researcher after reading this article, so read it at your peril.
Click the 'I accept' button to continue.
I accept ->
New way of working - same old challenges

Let's start with a test. How would you react if your superior came up to you and said:
"I have looked at your results and I have noticed that you make quite a few mistakes. I propose you ask one of your colleagues to supervise you for a week. In two weeks time I will check whether there is any improvement." read more ->
Chemical notion supported by physics - Kees Hummelen: 'Now things really get interesting'


An article was published in Nature Nanotechnology last month about quantum interference in molecular charge transport. Two of its authors were the Groningen chemists Prof. Kees Hummelen and Dr Hennie Valkenier, who received her PhD with honours, with Hummelen as supervisor. Hummelen is the driving force behind the department of Organic Chemistry, which instigated this research a few years ago. 'Now things really get interesting, with this article being published', he says. 'The idea that we developed – and we're just chemists – has now found strong experimental and theoretical support from physicists in Leiden and Denmark with whom we are collaborating.'
read more ->

The University 4∞ - For Infinity
In 2014, our University will be 400 years old! Naturally, this is a cause for celebration. We are going to celebrate the University's fourth centennial (or 80th 'lustrum') between 15 May and 15 June together with the RUG-community, inhabitants of the city and the surrounding area, and of course our alumni and everyone else who holds the University dear.
Prof Hisazumi Akai new director of Osaka University Centre Groningen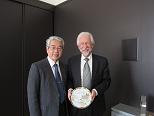 On April 1 2012, Prof H. Akai has succeeded Prof. Y. Hirotsu as director of Osaka University Centre for Education and Research in Groningen. read more ->
| | |
| --- | --- |
| Last modified: | 19 March 2020 09.31 a.m. |