Autumn 2010
Professor Safri Nugraha, Dean of the Law Faculty of Universitas Indonesia, alumnus of the University of Groningen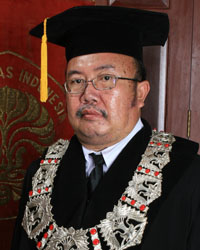 Dear friends of the University of Groningen,
It is nice to meet you again through this newsletter. It means that we can always keep in touch with each other, regardless of time, distance, energy, and other things. We live in a global society today.
I still remember very well that it was in 1997, that I decided to study at the University of Groningen, after having been invited by Prof. Wil Verwey during his visit to Indonesia. After a wonderful time in the youthful and academic city of Groningen, I returned to Indonesia. In 2008, I became dean of one of the oldest, biggest and best law schools in Indonesia (Universitas Indonesia), while I also serve as chairman of the Association of Deans of Public Law Schools.
Each year, I travel to the Netherlands and when there, I always revisit the University of Groningen, simply because I am proud of my alma mater and also to once again experience the University of Groningen as the dynamic, world-class university it is.
It is a pleasure for me to keep in contact with my alma mater and the University of Groningen always enables me to do so by means of activities, messages and information.
Wishing you all the best,
Prof. Safri Nugraha
Dean of the Faculty of Law, Universitas Indonesia, Jakarta, Indonesia
Russian archbishop opens Centre for Russian Studies at the University of Groningen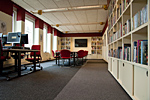 The University of Groningen has recently opened a Centre for Russian Studies. The centre, located in the University Library, is a new impulse for the study of Russian-Dutch relationships at the University. The official opening took place on 29 June 2010. The centre has been consecrated by Archbishop Simon of the Benelux Russian Orthodox Church. The Centre for Russian Studies concentrates on studying Russia in the widest sense and in particular on Russian-Dutch relationships. > watch a video and read more

Alumna Hong Hanh Vu: Go for your dream!
This is the motto which leads the way I live and I'm glad it led me all the way from Hanoi, Vietnam to Groningen, a beautiful town in the Northern Netherlands. Travelling into a new culture is always interesting and it was great to stumble upon many nice people along my way, among those some have become friends for life. At the start of my journey, I was lucky enough to be granted a scholarship by the Eric Bleumink Fund of the University of Groningen for which I have studied hard to get and for which I am always thankful.
ERSA Anniversary Award for Philip McCann
Prof. Philip McCann of the Faculty of Spatial Sciences was given the ERSA 50th Anniversary Award at the European Regional Science Association Congress held in Jönköping Sweden in August 2010. The European Regional Science Association, an academic body of 3500 members, celebrates its fiftieth year in 2010, and the special award was to commemorate this milestone.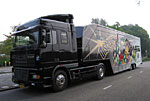 Watch a video about the University of Groningen Discovery Truck
For several years now, the University of Groningen has had its own 'Discovery Truck': a fully equipped laboratory on wheels which can also be used as a lecture room. The Faculty of Mathematics & Natural Sciences uses the truck to tour around schools in the Netherlands and show the students what science is about through experiments and lectures. > watch a video about the Discovery Truck
Car users are prepared to change their behaviour if positive benefits are clear
Pricing policy is regarded by economists as one of the most effective ways to influence driving behaviour. However, resistance from the public is usually very high. Psychologist Geertje Schuitema has discovered that support increases significantly if people become more convinced of the positive benefits for themselves or for society. Schuitema: 'People are definitely prepared to adapt their driving behaviour – on condition that it is to their advantage.' Schuitema was awarded a PhD by the University of Groningen on 9 September 2010. > read more
New building for the Faculty of Economics & Business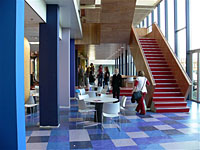 The Faculty building, previously called WSN Building, has been thoroughly renovated in the last few years. In June it was officially reopened and renamed. From now on, the building will be called: the Duisenberg Building. With this new name, the Faculty honours the famous University of Groningen alumnus Wim Duisenberg (1935-2005). Wim Duisenberg was Minister of Finance in the Den Uyl government (1973-1977), director of the DNB (De Nederlandsche Bank) (1982-1997) and the first director of the European Central Bank (1998-2003). > read more
Special Summer Ceremony for our international alumni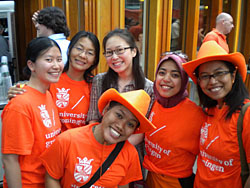 They use Facebook to keep in touch, they hope that the University of Groningen will keep in contact and inform them about career opportunities in their countries, they would like to promote the University of Groningen in their home countries and they would like to donate money towards scholarships for excellent international students. Those are some of the conclusions of the report "International students graduating this summer 2010". The alumni-to-be were invited to a special Summer Ceremony 2010 in order to celebrate their graduation. Here they filled out a survey that provides an overview of what alumni are willing to do for their alma mater and what kind of assistance they would like. Alumni from all faculties are represented.
Alumni meetings in NYC and Washington D.C.
This August, two alumni reunions were held in the United States. Dutch alumni and international alumni living in New York City and Washington D.C. attended the reunions. The alumni had the opportunity to watch the University's corporate movie, hear about the achievements and future plans of their alma mater and share their opinions about Dutch politics. And of course they had the chance to meet other University of Groningen alumni living in the States.
2010 LLM Reunion
After a very successful first reunion in 2005, the international office of the Faculty of Law organized a second LLM Reunion this summer, to celebrate the 15th anniversary of the LLM programmes. International alumni of the Faculty of Law from 37 different countries came back to Groningen to get back in touch, meet other alumni, follow lectures, remember their study time in Groningen, network and a lot more: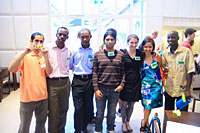 "This reunion was, by far, more than just a lawyers' meeting: it showed that we all looked for similar goals. Groningen was, once more, the best place to interact with colleagues from all over the world." Diego E. Basile, Argentina, alumnus International Economics and Business Law.
"Although I have graduated just one year ago and all this time stayed in Groningen, I couldn't wait for the LL.M reunion. I was happy to see my friends and to meet new people with the same experience of studying in Groningen. I had an amazing time and cannot wait for the LL.M reunion 2015." Karolina Maria Sikorska, Poland, alumna International and Comparative Private Law.
| | |
| --- | --- |
| Last modified: | 15 June 2020 12.41 p.m. |