R&D Playground 'Sustainable Carbon'
| | |
| --- | --- |
| When: | Th 09-06-2022 15:00 - 18:00 |
| Where: | FC Groningen Euroborg Stadium. Boumaboulevard 41, 9723 ZS Groningen |
What is the R&D Playground?
The R&D Playground is an initiative which connects professionals from companies and governmental institutions to researchers. As the name suggests, the R&D Playground is focused on play; you can meet new people, discuss experiments and ideas, and learn from others in an informal setting. The aim is to learn from one another and find new ways to cooperate and innovate – but it doesn't hurt if we have fun along the way.
What is the event about?
The theme of the first R&D Playground event is Green Industry. The related topics to this theme are biomass, plastic recycling, CO2-valorization, sustainable electrification, electrochemistry, and chemical processes.
During this event, we want to provide you the opportunity to network with experts in the region from both academia and industry. Together, we can strengthen the green, innovative power of the North!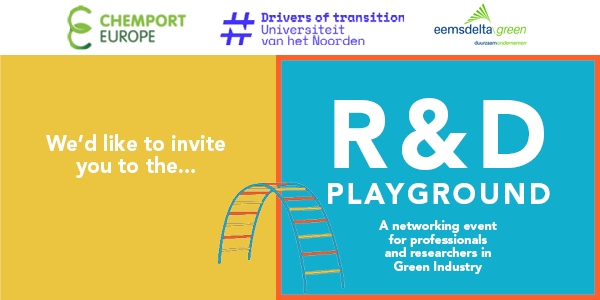 Programme
Speakers from companies and knowledge institutes will cover these topics through plenary and parallel sessions. The programme is as follows:
15:00 - 15:15 Doors open
15:15 - 15:30 Introduction and welcome
15:30 - 16:00 Keynote speaker Achim Raschka, Head of Technology Department - nova-Institute
16:00 - 16:10 Break and transfer to parallel sessions
16:10 - 17:10 Parallel sessions
17:10 - 18:00 Drinks and food
The parallel sessions consists of:
1: Sustainable Carbon: Biomass
Peter Deuss (University of Groningen)
Erik Keller (Hanze University of Applied Sciences)
André Heeres (Hanze University of Applied Sciences)
2: Groningen Sustainable Carbon: Plastics/polymers & Recycling
Andrea Giuntoli (University of Groningen)
Ranjita Bose (University of Groningen)
3. Green and sustainable chemical techniques: Industry CO2-neutral Power to chemicals & CO2 valorization
Sebastian Beil (University of Groningen)
Jingxiu Xie (University of Groningen)
If you have any questions regarding the R&D Playground, please send an email to industryrelations rug.nl.