Have the media failed on climate change?
| | |
| --- | --- |
| When: | Tu 16-05-2017 10:00 - 11:30 |
| Where: | Lecture room 5412.0020 (Blauwe Zaal Duisenberg) |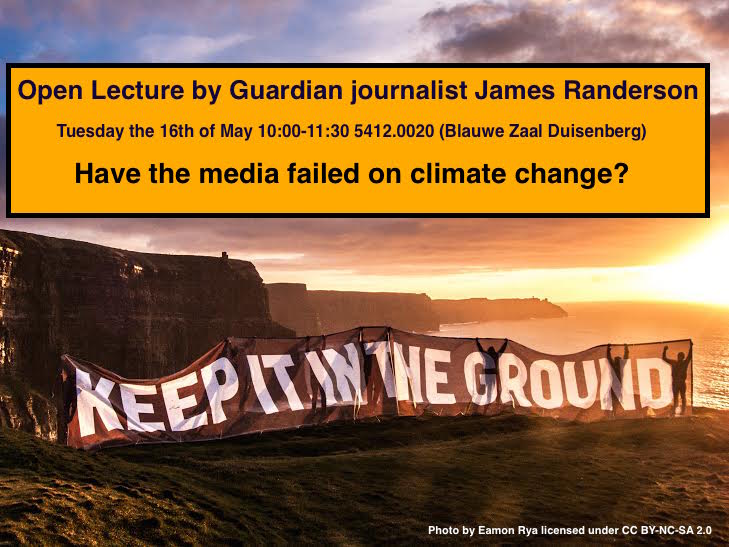 A lecture by James Randerson, a former science journalist at The Guardian
It is hard to think of a bigger news story than climate change.
It is an existential threat that is impacting the lives of millions; a major contributor to mass extinctions; and preventing its worst impacts can only be done by re-engineering the global economy.
And yet despite the mega-wattage of its news value, the media has struggled to find ways to report it that will capture the public's imagination and make people care. Very often, coverage falls into two distinct camps: "the scientists say the crisis is worse than they thought" and "the scientists are crooks and are making it up". Both these approaches ill-serve the public.
In 2015, the Guardian pioneered a radically different approach with its Keep it in the Ground project. This was a major editorial push on the climate issue allied to an editorial campaign on fossil fuel disinvestment. It used the Guardian's global reporting reach to bring in stories from around the world but it also brought readers into the newsroom with a fly on the wall documentary podcast and regular assignments for people who had signed up to the campaign.
Dr James Randerson, former assistant national news editor at the Guardian, ran this project.
Dr. James Randerson is a journalist, author and editor. Until September 2016 he was assistant national news editor and the Guardian and led the paper's award-winning climate change campaign Keep it in the Ground . He was previously the paper's online environment editor and science correspondent. Before joining the Guardian in 2005 he was deputy news editor at New Scientist magazine . He regularly lectures and teach courses on digital journalism; science and environmental journalism and blogging.
He has a PhD in evolutionary genetics and has authored or edited three books.