Centre of Expertise Healthwise en UMCG organiseren symposium over dure medicijnen
Wanneer:

wo

31-05-2017 12:00 - 17:00
Waar:

Rode Zaal en Blauwe Patio (UMCG)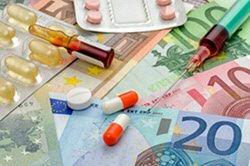 Op woensdag 31 mei organiseren het Centre of Expertise Healthwise van de Rijksuniversiteit Groningen en het Universitair Medisch Centrum Groningen een symposium rondom het thema 'Dure medicijnen'. Onder anderen Wouter Bos, bestuursvoorzitter van het VUmc, Bart Benraad, programmamanager bij Zorgverzekeraars Nederland en Alfred Bein, algemeen directeur van farmaceutisch bedrijf Novartis, geven dan hun visie op de prijs van geneesmiddelen.
Met de toenemende kennis op het gebied van gezondheid en ziektebestrijding wordt in de wereld van geneesmiddelen grote vooruitgang geboekt. Er komen steeds meer nieuwe én betere medicijnen op de markt die perspectief bieden voor patiënten met ernstige aandoeningen. Tegelijkertijd stijgen de medicijnuitgaven in ons land aanzienlijk, door de stevige prijskaartjes die aan bepaalde groepen geneesmiddelen hangen. De maatschappelijke vraag 'hoe houden we de uitgaven aan medicijnen binnen het budget?' is daarmee een zeer actuele kwestie.
Geschikte oplossing
Tijdens het symposium schetsen diverse vooraanstaande sprekers uit de zorgsector een zo compleet mogelijk beeld van de vraagstukken waar onze maatschappij mee te maken krijgt. De sprekers zullen vanuit hun eigen expertise verschillende oplossingen aandragen om het debat te stimuleren. Ook de invloed die de politiek kan uitoefenen op de gezondheidssector komt aan de orde. Het doel van de discussie is om richting te geven aan een geschikte oplossing voor te dure medicijnen.
Deelnemen
Geïnteresseerden zijn van harte welkom op het voorjaarssymposium, dat van 12.00-17.00 uur plaatsvindt in de rode zaal en blauwe patio van het UMCG. Aanmelden kan via www.rug.nl/healthwise/events/symposia. De entreeprijs bedraagt €75,-.
Over Healthwise
Healthwise is een van de elf expertisecentra van de Faculteit Economie en Bedrijfskunde van de Rijksuniversiteit Groningen. Healthwise verbindt wetenschappelijke kennis aan vragen uit de praktijk door het uitvoeren van multidisciplinair onderzoek binnen de gezondheidssector. Ervaren onderzoekers en studenten leveren onderzoek op maat aan verschillende organisaties, gestuurd door maatschappelijke én bedrijfskundige vragen. Het toegepast onderzoek van Healthwise haakt aan bij de nieuwste maatschappelijke ontwikkelingen en richt zich op de vertaling van fundamentele kennis naar de praktijk van de gezondheidszorg, zowel nu als in de toekomst. Door kennis te delen, willen de aan Healthwise verbonden onderzoekers en professionals de toekomst van de gezondheidszorg helpen waarborgen.
Noot voor de redactie
Wilt u meer weten over het symposium of de middag bijwonen om verslag te doen, neem dan contact op met Isabella Bazuin. tel: 050 363 7085 of e-mail:
i.m.bazuin rug.nl
. U ontvangt dan een bevestiging van aanmelding, waarmee u op 31 mei vrije toegang krijgt.