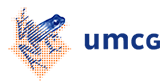 Cancer Research Center Groningen
The Cancer Research Center Groningen (CRCG) was established in 2012. The aim is to translate fundamental insights in oncogenesis and tumour behaviour from basic research into cancer prevention, improvement of early detection of cancer, and better treatment for cancer patients.

The mission of the CRCG is to clarify the molecular mechanisms that determine malignant transformation in a broad spectrum of tumors and to translate these fundamental insights into improved early detection and treatment of cancers. This will ultimately lead to personalized cancer therapy, thus reducing the unintended side effects of treatment on normal tissues and improving the quality of life of cancer survivors.