T. (Tamalika) Banerjee, Prof Dr
Professor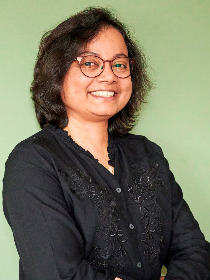 ---
Tamalika Banerjee is a Rosalind Franklin Fellow and a Full Professor of 'Spintronics of Functional Materials' in the Physics of Nanodevices group at the Zernike Institute for Advanced Materials.
She studied Physics at Presidency University, Kolkata, India and obtained her PhD from the University of Madras, India. She was a Visiting Scientist at the Francis Bitter Magnet Laboratory, MIT, USA and a Post Doctoral Fellow at the Tata Institute of Fundamental Research, Mumbai, India, before she joined the MESA+Institute for Nanotechnology at the University of Twente, the Netherlands. In 2009, she moved to the University of Groningen and since spring 2019, is a Full Professor at the Zernike Institute for Advanced Materials.
Her research group on 'Spintronics of Functional Materials' studies spin transport in functional material interfaces involving complex-oxides and their integration with graphene and topological insulators, relevant for spin logic and reconfigurable spintronics architecture. Her current research focus is on Topological spintronics, with particular focus on studying strong correlation effects and topology in such quantum materials. A primary focus is on looking at new approaches to study spin and magnon transport by electrical field control, particularly relevant for reconfigurable spintronics architecture and for applications in neuromorphic computing. Earlier, she pioneered a new technique, known as the Ballistic Electron Emission microscopy, to study spintronic devices at the nanometer scale which has been applied to different material systems and their devices.
Her research is funded by NWO-VIDI, NWO-nano (FOM), NWO-DST and Dieptestrategie grants.
She is a member of the Steering group of NanolabNL and of the NWO Domain Science working group on Physics for Technology and Instrumentation.
She is a Senior member of IEEE and a member of several professional societies.
More information can be obtained at : https://www.rug.nl/research/zernike/physics-of-nanodevices/banerjee-group/
| | |
| --- | --- |
| Last modified: | 25 June 2022 12.49 p.m. |