E. Thomou, MSc
PhD Student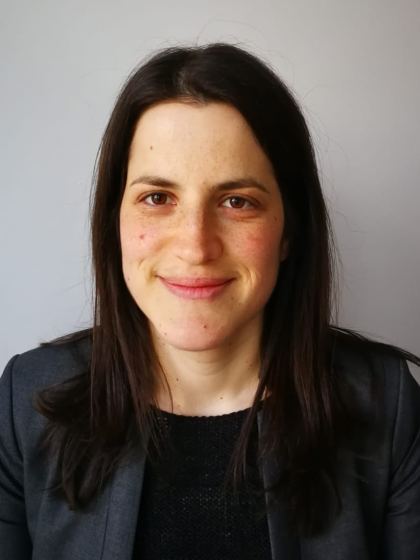 ---
2016-today PhD researcher Department of Materials Science and Engineering, University of Ioannina, Greece & Zernike Institute for Advanced Materials, University of Groningen, Netherlands
2013-2016 M.Sc. Diploma in "Materials Chemistry and Technology", Cross-Departmental Master Course Program, Departments of Chemistry and Materials Science and Engineering, University of Ioannina, Greece
Master thesis: "Development and study of novel hybrid superstructures and nanoporous materials based on carbon"
2013 First Degree (B.Sc.) in Materials Science and Engineering, University of Ioannina, Greece
Bachelor thesis: "Immobilization of cytochrome C on the surface of graphene oxide and its organically modified derivatives"
RESEARCH INTERESTS
Phyllomorphous materials (layered carbon structures and pillared clays), carbon nanostructures (nanotubes, fullerenes, graphene, graphene oxide, reduced graphene oxide), porous carbon materials (porous carbon cuboids, hierarchical porous carbons, activated carbons), carbon quantum dots and biocatalysts.
Synthetic procedures: Intercalation reactions, Sol-Gel, Hydrothermal synthesis, Chemical Vapor Deposition (CVD), Langmuir-Blodgett (LB) and Langmuir-Schaefer (LS) techniques
Characterization techniques: FTIR, DTA/DSC/TGA, UV-Vis, XPS, SEM-EDX, mechanical testings (tension, compression, bending, hardness), specific surface area and porosity analysis.
Scholarship from the General Secretariat for Research and Technology (GSRT) and the Hellenic Foundation for Research and Innovation (HFRI) during PhD studies at the Department of Materials Science and Engineering at the University of Ioannina.
PhD scholarship grant from the Ubbo Emmius programme at the University of Groningen during PhD studies at the Zernike Institute for Advanced Materials.
Reviewer for the international journal: Materials Chemistry and Physics.
PARTICIPATION IN FUNDED RESEARCH PROGRAMS
«Novel, Highly Selective Nanocomposite Adsorbents for High Capacity CO2 Capture and Cost-Effective Regeneration for EOR Use», Abu Dhabi National Oil Company – ADNOC
| | |
| --- | --- |
| Last modified: | 03 March 2021 4.22 p.m. |