Waarom is een paard niet zindelijk?
en 399 andere vragen aan de RUG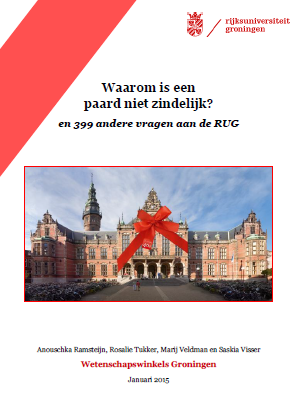 Vragen stellen is de kern van de wetenschap. In de aanloop naar haar 400e verjaardag (2014) riep de Rijksuniversiteit Groningen daarom het publiek op om al hun vragen in te sturen. En dat werd massaal gedaan. Ruim 400 vragen kwamen binnen bij het lustrumbureau. Tijdens het lustrum werden al deze vragen beantwoord: via publieksevenementen, lezingen en debatten, via de radio en de krant, via persoonlijke antwoorden en door nieuw onderzoek op te starten. Zo werd het publiek er actief bij betrokken.
In dit boekje leest u hoe dat ging en wat we daarvan kunnen leren. Wat vragen kinderen en waarom? Hoe kijken wij met zijn allen naar de toekomst? Hoe is het voor wetenschappers om rechtstreeks geconfronteerd te worden met nieuwsgierige, kritische of ingewikkelde vragen? En natuurlijk vindt u tal van vragen waar we allemaal wel een antwoord op zouden willen krijgen… En vooruit dan, ook de antwoorden. Het boekje is te downloaden [PDF] of voor €15 te bestellen bij de Wetenschapswinkel Taal, Cultuur en Communicatie: tawi rug.nl.
In het 400-vragenproject werkten de wetenschapswinkels samen met de RUG-steunpunten in de selectiecommissie o.l.v. Ton Schoot Uiterkamp. Samen zorgden we ervoor dat elke vraag een passend antwoord kreeg.
| | |
| --- | --- |
| Laatst gewijzigd: | 01 maart 2021 16:57 |