Transferring knowledge to society and industry
'And then you suddenly own a commercial product'
Knowledge protection helps to find commercial and social partners to apply knowledge and thus create social impact. In addition, as a researcher at RUG and UMCG, you can spend a quarter of the revenues from the commercial application of knowledge for new research at your own discretion. Prof. dr. Erik Frijlink, prof. dr. Hedderik van Rijn, prof. dr. Francesco Picchioni and dr. Eize Stamhuis are partly funding their research from royalties. Their story.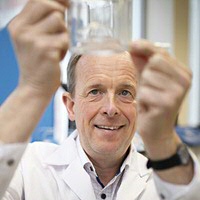 Professor Erik Frijlink's research freedom
In the Netherlands, almost all research is directed by grant providers . These funding organizations in a way limit the freedom of researchers, who must adhere to the approved research proposals. Prof. dr. Erik Frijlink, Pharmaceutical Technology and Biopharmacy, University of Groningen (UG) , finances a part of his research from the royalties of his inventions Genuair and Twincer. A sense of freedom.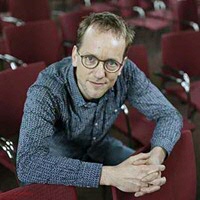 'Every day over 500,000 students learn better thanks to UG invention'
In the lab, prof. dr. Hedderik van Rijn, Psychometric & Statistical Techniques of the University of Groningen, developed the algorithm Rugged Learning ('Slim Stampen' in Dutch). Rugged Learning is a digital adaptive testing program that adapts learning to the knowledge and skills of the student. Van Rijn: 'During our experimental research it was immediately clear to me that my invention represented a potential commercial value. It felt good. But for whom, what and how?'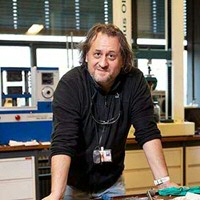 Rubber for Eternity
In 2016, prof. dr. Francesco Picchioni, Chemical Technology, University of Groningen, filed a patent application based on his research 'Recycling of Rubber'. A real gap in the market: 'Recycling rubber is a social problem. The surplus of used rubber is now burned and that is bad for the environment. Our invention gives new applications to rubber from discarded car tires.'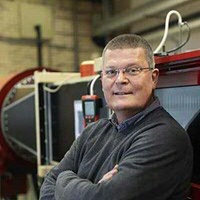 From paperclip to patent
How is it possible that an albatross doesn't crash and die when it lands? And how come its large wings don't break due to air resistance? That is what you would expect, according to the laws of aerodynamics. However, Professor Eize Stamhuis has discovered that albatrosses land safely by making wiggly wing movements. What is more, he sees a possible application of this oscillation technique to make the blades of wind turbines more efficient. To protect his intellectual property (IP), he has applied for a patent. He has also attracted interest from industries working on aerodynamics. So, how does he work?
Harvesting Wave Energy
'Ocean Grazer' is a system to harvest and store energy from the sea. The Ocean Grazer harvests energy from waves on the water surface via an ingenious system of adaptive buoys, which together form a so called floater blanket. The buoys in turn drive pistons that provide a flexible bladder on the sea bed with potential energy. The Ocean Grazer also houses wind turbines and thus harvests multiple energy sources simultaneously, with on-site storage.
IP & Business Development
The IP & Business Development team focusses on strengthening the societal impact of the research of the university (UG) and medical center (UMCG).
We provide support with: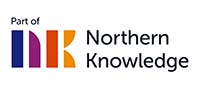 Intellectual Property (IP) protection
Patenting
Business Development
Technology licensing and transfer
| | |
| --- | --- |
| Last modified: | 08 July 2019 1.57 p.m. |