Listen Here Now: A Soundscape Approach to Biodiversity, Creativity and Well-Being - Symposium
| | |
| --- | --- |
| When: | We 23-08-2023 10:15 - 14:30 |
| Where: | House of Connections. First and second floor, in: Groot Handelshuis, Grote Markt 21, Groningen |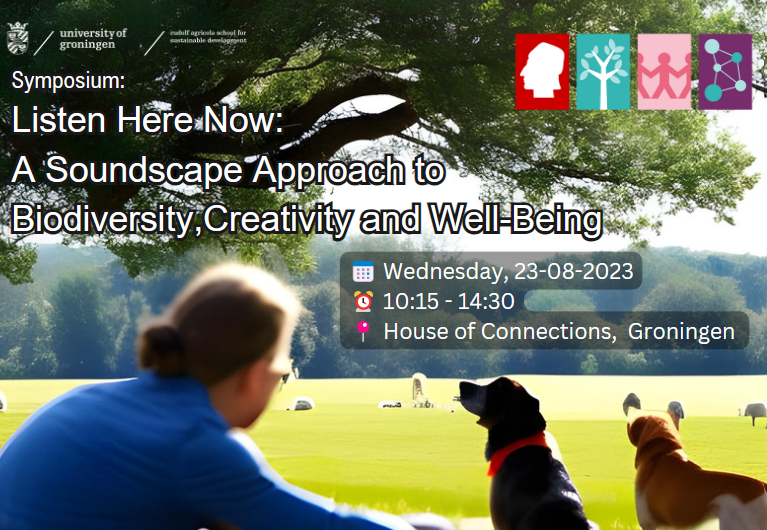 Programme
10:15 Opening + Coffee
10:30 Providing an Optimal Acoustic Space for Bird in Urban Forests amidst Anthropogenic Noise Interference
Keynote by Dr. Zezhou Hao (online) – Institute of Tropical Forestry, Chinese Academy of Forestry, Guangzhou, China, acoustic scenes classification and bird vocalization recognition.
Abstract: Forests serve as crucial habitats for avian vocalization within natural environments. However, the question arises as to whether urban forests or other urban green spaces, contaminated by anthropogenic noise, still play a role in birds acoustic habitat formation. We hypothesize that urban forests continue to influence bird sounds' diversity despite noise interference, with mechanisms varying across urbanization gradients. We developed an analytical process that combines machine learning-based urban forest soundscape classification models with a target sound energy threshold algorithm. This process maximizes the preservation of all environmental sound information and enables efficient analysis of the dominance of different acoustic scenes within urban forest environments. We also quantified vegetation structure using remote sensing and LiDAR. Results show that anthropogenic noise disrupts bird vocalization, but bird species adapt by altering frequencies. Vegetation structure significantly affects vocal diversity and has differential effects on anthropogenic noise and bird vocalizations. This research sheds light on avian responses to vegetation structure and environmental noise, highlighting the critical role of urban forests in urban biodiversity conservation.
11:15 Workshop/presentation on Bats with PhD candidate Angelica Caiza Ville and Jasper Koster (University College, University of Groningen)
Title: Echoes of the Night: Listening to Bat Sounds and Enchanting Soundscapes
Abstract: Embark on this captivating project and unlock the secrets of bat sounds, the conservation of soundscapes, and the enchanting world of nocturnal life. Let the echoes of the night guide you into a deeper understanding and appreciation of these remarkable creatures here in the city of Groningen.
12:00 Lunch
12:30 Listen Here Now – update on research findings and methods (Kristin McGee – University of Groningen, Merel Ursem – Sound Appraisal)
13:15 The Sound of Silence?: The Role of Urban Forests in Creating Alternative Urban Soundscapes
- Keynote Presentation by Dr. Cecil Konijnendijk
Abstract: Urban forests, defined as all trees and associated vegetation in and around cities and towns, have to meet a wide range of societal demands. Recent years have seen an emphasis on the climate adaptation and public health benefits of urban parks, woodlands, street tree plantations, and the like. Their role as providing alternative, stimulating, and salutogenic urban soundscapes is still not widely recognised, even though urban residents turn to urban forests for a different sensory experience. This presentation takes a global perspective in discussing the roles of urban forests in creating alternative urban soundscapes, from offering 'silent areas' and the benefits of nature's sounds to efforts to use urban vegetation for sound buffering.
14:00-14:30 Discussion/Coffee – Introduction to Resounding Nature Project
BIOS
Cecil Konijnendijk
From his home city of Zeist, The Netherlands, Cecil Konijnendijk co-leads the Nature Based Solutions Institute, an international think tank which supports the evidence-based greening of cities. He is also an Honorary Professor of urban forestry at the University of British Columbia and holds visiting professorship and researcher positions at universities in China, Malaysia, and The Netherlands. Cecil has authored various seminal textbooks on urban forestry and urban greening and is currently a consultant to the Food and Agriculture Organization of the United Nations.
Email: cecil.konijnendijk ubc.ca
Hao Zezhou obtained his PhD from the Chinese Academy of Forestry in 2021. From 2019 to 2020, he was supported by the China Scholarship Council (CSC) to pursue a joint doctoral training at the Faculty of Forestry, in the University of British Columbia, Canada. He began working at the Institute of Tropical Forestry, at the Chinese Academy of Forestry in 2021. In recent years, his research has engaged the fields of urban wildlife passive acoustic monitoring technology, soundscape classification technology, and the relationship between biophony and human activities. Currently, he is the principal investigator of a national Natural Science Foundation of China project and another one funded by the Guangzhou Basic and Applied Basic Research. He has published papers related to urban forest soundscapes widely in forestry, biodiversity, and soundscape journals.
Email: zezhouhao foxmail.com
Angelica Caiza is a biologist who has received a Ph.D. Scholarship at the University of Groningen. Her research focuses on how humans and bats coexist in urban environments.She is interested in studying the relationship between humans and bats in urban areas. She explores, through qualitative methods, the stories of people that enjoy looking for bats or that share space with them. Angelica is driven to understand how humans and wildlife coexist in urban areas and hopes her research will shed light on this crucial issue.

Jasper Koster is an ecologist with a great passion for nature. His experience includes participating as a field research assistant in various projects in the Arctic, where he engaged in activities such as geese radiotracking and searching for bird nests in the tundra. Currently,Jasper works for AT-KB, an ecological advice company, where he focuses on bat research.
His specialization is locating bat colonies, analyzing sounds, and identifying different species. Jasper strongly believes that bats, like other animals, should be acknowledged and appreciated in urban spaces.

Merel Ursem is a Sonic Sociologist, with a BA in Sociology and MA in Urban Studies at the University of Amsterdam, where she wrote her Master Thesis on the experience of urban sound and quietness in Amsterdam. She is currently working as a Soundscape Adviser at SoundAppraisal, a Groningen-based research company that develops software that visualises and analyses sonic environments. Together with her colleagues, she does soundscape research that aims to improve the quality of the sound experience, and by extension, the overall quality of living.

Kristin McGee is Associate Professor in Popular Music in the Arts, Culture and Media Department at the University of Groningen. She teaches on various subjects including popular music theory, ecomusicology, soundscapes, music and globalization, audiovisual arts cultures, film music, and music event organization. She has written especially on the intersections of jazz and popular music within European and American contexts and in relation to audiovisual media within a variety of articles and books, including her monograph Some Liked it Hot: Jazz Women in Film and Television (Wesleyan University Press 2009) and Remixing European Jazz Culture published by Routledge's Transnational Studies in Jazz Series. In 2021, she co-edited, with Christina Baade, Beyoncé in the World:
Making Meaning with Queen Bey in Troubled Times (Wesleyan University Press). For this project, she combines her desire employ artistic creativity through improvisation as a means to explore urban soundscapes. Through these explorations, she hopes to stimulate greater action to reverse the loss of urban green spaces and to replenish our neighborhoods with sonically rich environments which are both sustainable and uplifting for all urban dwellers
(human and more than human).