Community
The Agricola School is a community of scholars and stakeholders for cross-disciplinary scientific research on sustainability. The School's staff supports scientists in collaborating, and co-creating new insights and impactful research and education, together with key organizations and societal stakeholders. All focused on bringing sustainable development nearer.
What are the key features of Agricola?
The Rudolf Agricola School for Sustainable Development has specific characteristics to achieve its aim. The most prominent feature of Agricola, as illustrated in the figure, consist of the research groups in which 3-15 scientists from different disciplines cooperate to create new knowledge or science-fueled actions for sustainable development.
Research groups can be small and in a starting phase or they can grow to full fledged research programmes with their own outreach and communication - powered by Agricola. The Agricola staff supports these research groups; they fall within one of the four research themes and they are commonly connected to societal partners via Agricola's strategic alliances. Agricola organizes and initiates creative work forms and innovative collaborations to spark, realize, and solidify the transdisciplinary scientific progress.
Agricola is developing. We intend to host 200-300 active fellows participating in 30-50 research groups and collaborating with societal partners in some 30 strategic alliances.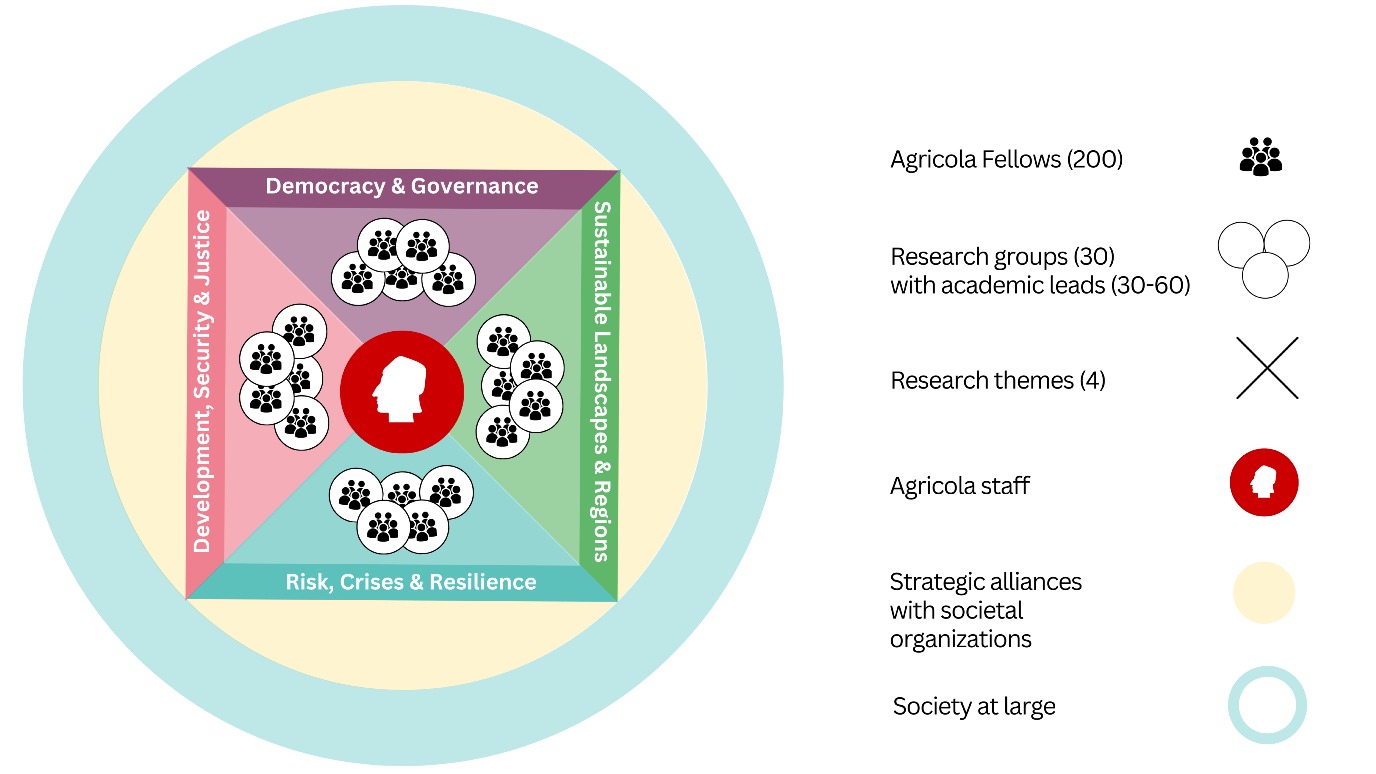 What is a Rudolf Agricola Fellow?
The Rudolf Agricola School for Sustainable Development has a fellow system. An Agricola fellow is a University of Groningen researcher who relates and wants to contribute to the mission statement of a theme and to the interdisciplinary and transdisciplinary research of the Agricola School in general. A fellow of a theme is automatically a fellow of the Rudolf Agricola School for Sustainable Development and is supportive of the development of the Schools' activities. The most common way of joining as a fellow is to join one or more of our research themes: Democracy and Governance,Development and Security, Risk, Crises and Resilience, and Sustainable Landscapes and Regions. Agricola fellows can participate in the activities of one or more subthemes, depending on their interests.
A Agricola Fellow has priority access to the various funding mechanisms that the Agricola School provides for inter-, multi- and transdisciplinary research and educational activities (e.g. PhD grants, Small grants).
What support does Agricola offer?
A Agricola Fellow can – in general via the theme directors - ask to make use of other support options offered by Agricola like:
the consortium building support

the grant writing support

the event organization

the impact journalism support
| | |
| --- | --- |
| Last modified: | 30 October 2023 1.29 p.m. |