Sustainability Reimagined: The role of (visual) language in solving humanity's problems + Workshop
| | |
| --- | --- |
| When: | We 11-10-2023 09:30 - 17:30 |
| Where: | House of Connections, Grote Markt 21 Groningen, First Floor. |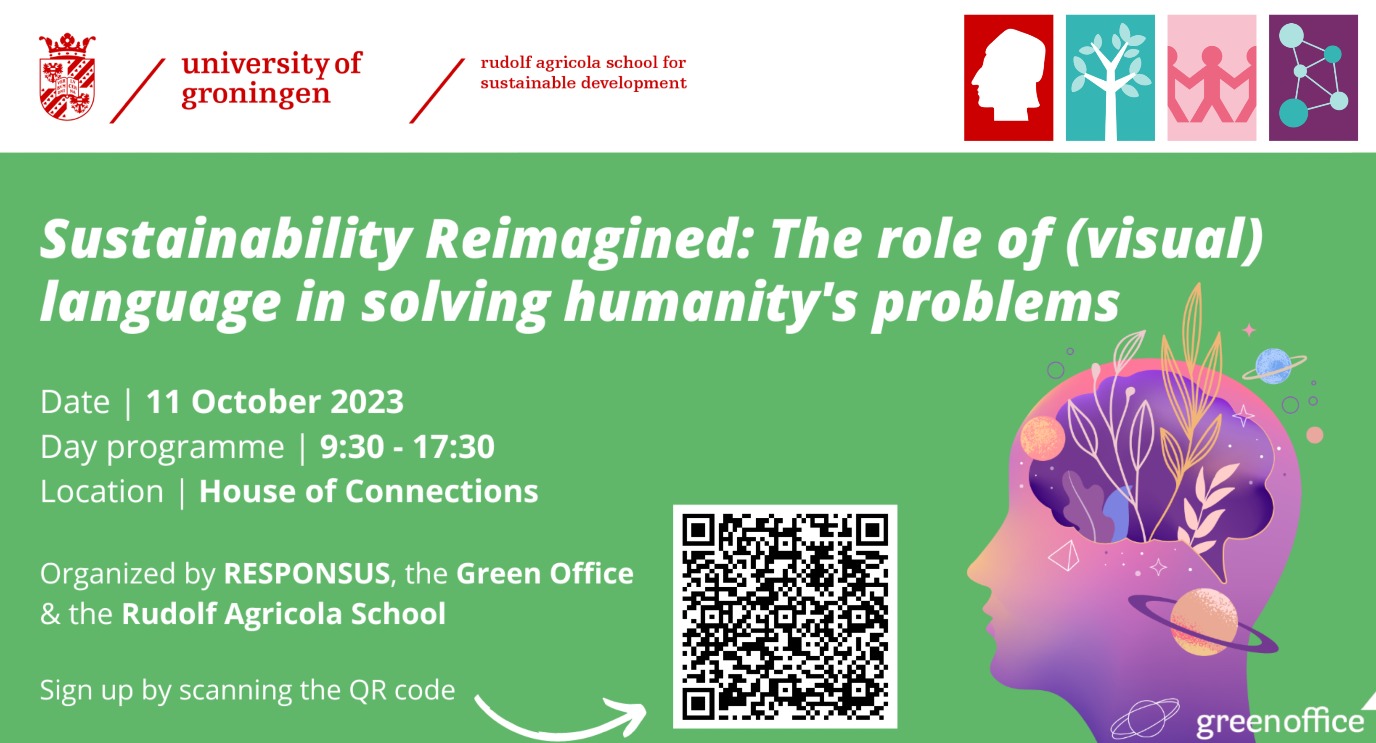 This Event is part of the Green Office Sustainability Week 2023
The debate about the transition to a sustainable future is often dominated by technological innovation and supranational policy making. But these alone are unlikely to garner the public engagement necessary to truly transition to a more equitable and greener future. What is needed is language that can help foster support and inspire action.
Pivotal role of (visual) language and communication
Part of the sustainability week, Sustainability Reimagined is a day-long event that focuses on the pivotal role of (visual) language and communication. Featuring a wide variety of hands-on workshops, informative lectures, thought-provoking discussions and an exhibition, the event is aimed at anyone who is interested in how language and communication shape our understanding of the world, our attitudes, and even our actions.
The full day-programme includes lunch and refreshments, and offers the opportunity to network with the invited guest speakers and the RESPONSUS network.
Lectures and workshops form the programme can also be attended separately. Sign up forms for each lecture / workshop can be found below each event description.
Date | Wednesday 11 October
Time | 9:30 - 17:30
Location | House of Connections, first floor
Language | English
Sign up: here at the Green Office Website
---
Workshop | Talking and Reading Sustainability: Unlock the Power of Language and Visual Communication
Would you like to discover how language and visual communication can shape our thinking about sustainable futures? Curious about the concept of landscape writing? Wondering if humor can aid in our sustainability efforts? Join us for an engaging and interactive experience with the RESPONSUS group in a series of short, hands-on workshops.
Explore a diverse range of themes, from visualizing sustainability, landscape writing and the power of rhetoric, to sustainable research practices and Corporate Social Bullsh*t (CSR). In these workshops, you will work with, and apply concepts and tools to explore the role of language and visual communication. You will gain valuable research insights, learn innovative analytical methods, and have a chance discover connections across disciplines.
Fun and dynamic atmosphere guaranteed by the members of the RESPONSUS group (led by Dr. Erika Darics).
Date | Wednesday 11 October
Time | 14:45 - 16:00 (two rounds and a small break)
Location | House of Connections
Language | English