Collaboration theater 'the Polish Bride'
| | |
| --- | --- |
| From: | Fr 21-06-2019 |
| Until: | Su 21-07-2019 |
| Where: | Boerderij De Haver, Onderdendam |
Theater group ECHO performs the theater performance 'the Polish Bride' in collaboration with Noord Nederlands Toneel (NNT) and het Groninger Landschap (the Groninger Landscape). The theater performance is a derivative of the eponymous film. It appeared in 1998 and received a Golden Globe nomination. The film, shown in fifty countries, is still the best viewed film ever in Groningen.
In-depth session Dirk Strijker
Sustainable Society provided an in-depth session prior to the performance with Dirk Strijker, Professor of Rural Development (faculty of Spatial Sciences), Mansholt chair for Rural Development and recently appointed Officer of the Order of Orange-Nassau. He talked about how fewer and fewer farmers are left: the treadmill of agriculture. Listen to the podcast (in Dutch).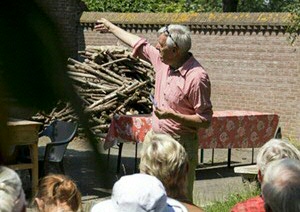 Short resume of the Polish Bride
A Polish woman escapes her Dutch pimps in the Groningen countryside. Injured, she flees to the farm of a tough farmer. He carries her inside, gives her clean clothes and food. Between these two people, islands in themselves that do not speak each other's language, a cautious conversation arises in gesture and broken Dutch. While he worries about the future of his farming business, she tries to conquer a place in his household. She cleans, cooks and keeps him company. They get to know each other better and better, a bond is created that slowly becomes more intimate.