Biomedical Polymers
Due to the aging of the world population and because of the justified expectation of patients that dysfunctional organs can be replaced by artificial ones, the need for biomedical materials is rapidly growing. Due to wear and trauma more and more organs will be restored or replaced to improve quality of life. In close cooperation with surgeons of the medical faculty of the university of Groningen (UMCG), medical targets are selected in which bio-active biomaterials are needed.
Polyurethanes are perhaps the most suited polymers for biomedical implants, as their mechanical properties are widely tuneable and they are highly biocompatible. However, so far it was difficult to incorporate covalently bio-active functionalities. In our group a versatile methodology was developed to vary widely the properties of polyurethanes, functionalized with bioactive groups.
One illustrative example (Figure 1) is a polyurethane coating system, based on lysine, which was decorated with biotin. Biotin binds strongly with the integrins of the protein avidine. The residual integrins of avidine can be used to bind a number of biotinylated bioactive moieties, such as RDG peptides

Because the major mode for failure of biomedical implants is infections antibacterial coatings are exploited. Infections are not only a great discomfort for patients, sometimes even lethal, but also very costly. We developed a polyurethane coating system, provided with non-leachable biocides (Figure 2). They appeared to be highly effective in killing bacteria in the contact-killing mode.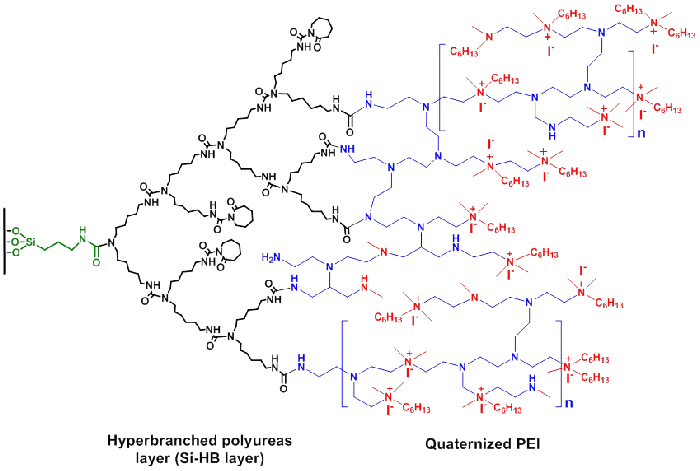 By preventing release of the biocides into the body fluids, while still killing all adherent bacteria on contact, a versatile coating platform was developed that can be used on surfaces of all implants.
| | |
| --- | --- |
| Last modified: | 04 November 2015 11.52 a.m. |