Research
Listed below are a few ongoing research directions:
(1)

Electric field manipulation of spin transport at oxide semiconducting interfaces
We have demonstrated electric field tunability of spin lifetime in n-doped SrTiO­3 at room temperature, by tailoring the potential landscape at the interface, and without the necessity of an additional gate electrode. We have also shown a new phenomenon of tunneling anisotropic magnetoresistance (TAMR) to coexist with large electroresistance effects in a 'spin memristor'. Further, we demonstrated the coexistence of spin accumulation and TAMR at suitably engineered interfaces between doped SrTiO3 and 3d transition ferromagnets that can be tuned by temperature and applied bias. These effects originate due to the tunability of the Rashba spin orbit coupling at the interface, and their manipulation provide unique prospects for reconfigurable Spintronics architecture (Current PhDs: Arijit Das, Former PhDs: Sander Kamerbeek, Roald Ruiter).

(2)

Antiferromagnetic Spintronics with complex oxides
Antiferromagnetic materials, lacking a net magnetic moment, are robust against external magnetic fields, can be operated at terahertz frequencies and are attractive for integrated memory and logic operations. The correlated interplay of the lattice, orbital and spin degrees of freedom in manganites, that are known for their extremes in functional behavior, are being currently investigated. We tailor the antiferromagnetic ordering and use spin hall magnetoresistance transport to study the influence of the magnetic anisotropy to the transport of magnons in these material interfaces (Current PhD's: Arijit Das, Ping Zhang, Arjan Burema, Master students: Adam Watson, Jip van Ham).

(3)

Novel magnetic textures across complex oxide heterointerfaces
We explore complex magnetic textures such as bubbles and skyrmions at oxide heterointerfaces. We stabilize such textures either on i) SrRuO3­/SrTiO3 or on ii) LSMO/LaAlO3 by substrate induced strain, thickness and magnetic anisotropy. We further tune the interfacial strain such that the films undergo a magnetic phase transition between antiferromagnetic insulating to a ferromagnetic metallic state and study this interplay by varying magnetic field and temperature. Using electrical transport schemes of anomalous and topological (magnon) Hall effect and a new microscopy technique of spin-filtered scanning tunneling microscopy we are currently studying different magnetic textures in such heterointerfaces, aided by micromagnetic simulations (Current PhDs: Ping Zhang, Arjan Burema, Arijit Das, Master student: Job van Rijn, Adam Watson, Jip van Ham).

(4)

Graphene spintronics on oxide interfaces
Graphene is a promising material in spintronics with predicted intrinsic spin relaxation time up to 1 µs and extremely high mobilities. In this project we used graphene as a unique platform to fingerprint the phase transition induced structural domains in STO using both charge and spin transport in graphene. We have shown how the electronically rich platform of SrTiO3 and its complex interdependence between dielectric permittivity and temperature influences spin transport in graphene and across the ferroelastic transition in SrTiO3. We are currently investigating the influence of electric field to spin transport in graphene and proximity induced exchange interactions in graphene on a multiferroic oxide substrate (Current PhDs: Crystal (Si) Chen, Former PhD: Roald Ruiter, Master students: Elisabeth Duijnstee, Miina Leiviska, Yahia Mostafa).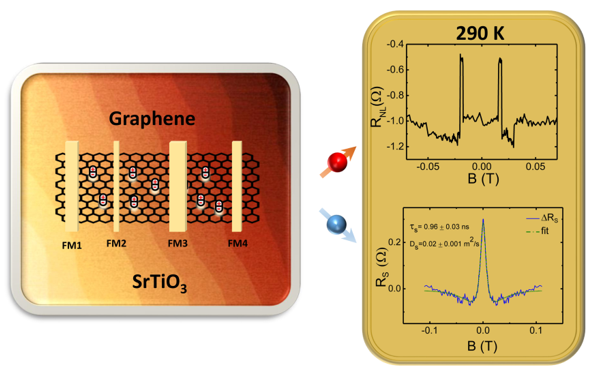 (5)

Interface driven memristive devices for bio inspired computing
Most computers make use of the von Neumann architecture and, while for many tasks this computing approach works well, it cannot compete with the speed, low power consumption and adaptability of the human brain for certain functions, such as performing cognitive tasks. For devices to mimic the performance of the brain, multi-level storage and a high storage density are needed. We have demonstrated interface driven memristive effects, at room temperature, in Schottky interfaces between Nb-doped SrTiO3 (Nb:STO) and ferromagnetic metals, without the need of a forming process. Multi-level switching originates from well controlled and tailored interface effects, unlike bulk effects that drives conventional memristors. The Schottky interface of Nb:STO offers rich electronic properties that have been shown to be useful both for memristor and spintronics applications. Temporal dependence of these memristors were studied and used to mimic learning and forgetting in short-term memory in human brain. We are currently working with researchers from the Bernoulli Institute to develop phenomenological and mathematical models, derived from the outputs of our memristor training protocols. This will enable predictive memristive behaviour for large scale integration (Current PhDs: Anouk Goossens, Arijit Das, Master students: Atreya Majumdar, Miina Leiviska).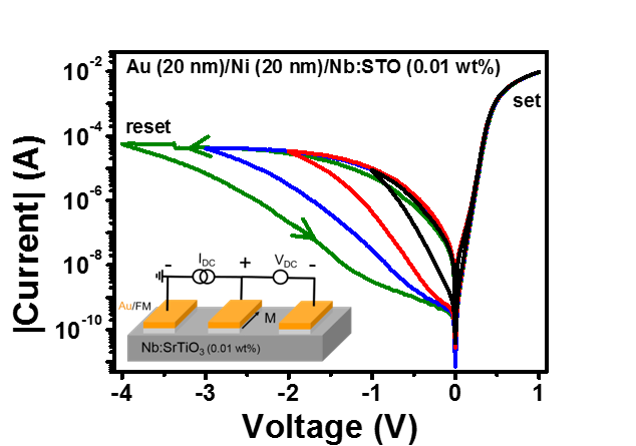 (6)

Spin momentum locking and hot electron transport using topological insulators:
Topological insulators are intriguing in that they can host electrically conducting surface states along with an ideally insulating bulk. Bi2Se3 thin films for this work were grown at Rutgers University and were fabricated into nanodevices at NanoLab NL. The intrinsic locking of the electron's spin to its momentum, leading to a dissipationless current flows was demonstrated using Co detectors in these thin films. Several cross checks were performed to ascertain factors beyond spin momentum locking that could influence the detected spin voltage. Using the High Field Magnet laboratory at Nijmegen, it was also established that besides the usual surface states, other conducting pathways are coupled to the bulk insulating states in such topological insulator films, not known earlier. The influence of metal contacts on topological insulators are also studied using a hot electron transistor scheme (PhD: Eric de Vries, Master students: Bart Zillen, Arjan Burema).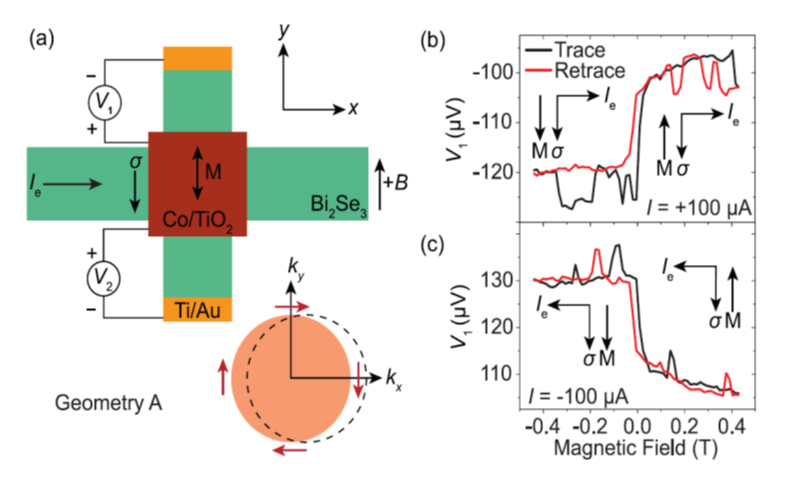 | | |
| --- | --- |
| Last modified: | 12 April 2019 3.23 p.m. |