Thin film diffraction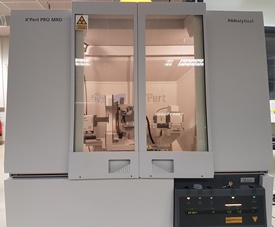 For structural characterization of thin films the MSC counts with a Philips X'pert four axes diffractometer equipped with primary and secondary optics. X-rays characteristic of Cu are generated by a PW-3373/00 (Cu LFF DK 127355) X-ray tube operated at V=40 kV and I=40 mA. In the line focus mode the beam size is ~ 12 mm x 0.4 mm. This beam is made parallel (horizontal divergence ~ 0.05 °) and monochromatic by the hybrid X-ray mirror sketched in the picture.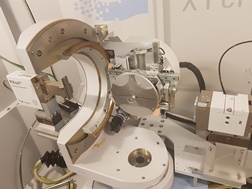 The spectral range of this monochromator is larger than that of the so-called four-crystal monochromators but delivers a much more intense beam, composed mainly of K1 (λ = 1.54059 Å), the K2 radiation being suppressed to less than 0.1 %. In the diffraction path an antiscatter slit, 0.04 rad Soller slits and a programmable receiving slit, are used in combination with a proportional detector. Other possibilites include point-focus mode for stress and texture measurements and the use of an analyser crystal. A heating stage (Anton Paar) is also available to heat up until 900°C under vacuum or with an O2 flow.
| | |
| --- | --- |
| Last modified: | 08 February 2018 2.38 p.m. |