Second phase
Second phase of Spandana (2004-2006)
In January 2004 Spandana started its second phase, again with funding by the Bernard van Leer Foundation. The activities in this second phase focus on:
up-scaling of its activities (new villages in the state of Karnataka)
more collaboration with the existing health services, especially the Anganwadi (Kindergarten) workers who take care of child welfare (nutrition, growth development), and the ANMs (Auxiliary Nurse-Midwives) who take care of women and child health care in the villages
establishing Health Advisory Committees in the villages as embedded in the Reproductive Child Health approach of the Government of India, including decentralisation of (reproductive) health care services towards the Panchayat Raj
new research that will focus on themes such as child development; an important challenge is whether Spandana's approach can be conducted in a quicker way, rather than the three years of research in 1996-1999. New research projects are to be conducted, such as those recently funded by IDPAD on reproductive health among adolescents and the nutritional status of women in between consecutive births. Results of these research projects are immediately translated into action within Spandana.
replicability of Spandana in other settings: can Spandana be applied in other settings? Can the material be used in other places, or is it the approach itself that is replicable? In this way, we will also focus on the question whether other projects in HERA, especially those in Bangladesh and Nepal, can or want to adopt (parts of) the Spandana approach towards Research for Action.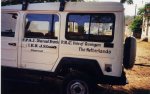 | | |
| --- | --- |
| Last modified: | 15 November 2012 2.26 p.m. |