20th Anniversary
Thursday 7th and Friday 8th of November 2019 the Population Research Centre at the Faculty of Spatial Sciences, University of Groningen celebrates the 20th Anniversary of the Master Population Studies.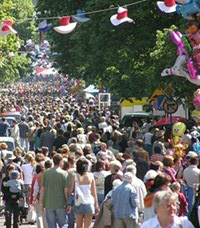 Join our Master's alumni and students, lecturers and researchers from Groningen and other Population-masters world-wide for two days of state-of-the-art masterclasses, top-notch lectures, lively debates, World Café discussions, a thrilling pub-quiz and more!
Add the event to your calendar.
Contact us at: 20popparty@rug.nl
Programme Thursday 7 November:
Best Practices and Future Visions in Education

Master of Ceremony: Prof Clara Mulder, head of Demography department
Location: Prinsenhof Groningen - Martinikerkhof 23, 9712 JH Groningen
12:00 - 13:00

Registration + Welcome lunch

13:00 - 13:45

Welcome by Prof Clara Mulder (Prinsenzaal)
The future of humanity, the future of earth. A demographic perspective
Plenary lecture by Prof Leo van Wissen

13.45-14.30

Looking back on 20 years of the Master Population Studies (Prinsenzaal)

Round table moderated by Prof Clara Mulder

14:30 – 14:45

Coffee break (Prinsenzaal)

14:45 - 17:15

World café on Population Studies education (Prinsenzaal)

Group discussions of best practices and future visions

Plenary discussion and synthesis

Moderated by Prof Clara Mulder

From 17:15 onwards

Dinner and drinks (Feithuis, Groningen)
Programme Friday 8 November:
On the Cutting Edge of Population Studies: Sharing with Alumni and Friends of PRC
Location: University of Groningen, Groningen
9:00 - 9:45

Welcome coffee (hallway, near lecture room 5419.0112)

9:45 – 10:00

Welcome speech by Prof Clara Mulder (lecture room 5419.0112)

10:00 – 11:00

Lectures: new developments in Population Studies (lecture rooms: tba)

C. Mulder, H. de Valk, H. Haisma, L. Meijering

11:00 – 11:15

Coffee break (hallway, near lecture room 5419.0112)

11:15 - 12:30

Speed dating (hallway, near lecture room 5419.0112)

Networking between students and professionals

12:30 - 13:30

Lunch (canteen Kapteynborg)

13:30 – 15:00

Master classes

(lecture rooms: 5419.0101, 5419.0102, 5419.0114, 5419.0124 and computer-rooms in Mercator)

Interactive sessions focused on methods and generic skill development

The Power of Data Visualisation
N. Sander

Applying a capability lens to public health
L. Meijering and H. Haisma

Using register data in demographic research
C. Mulder

15:00 – 15:30

Poster session by our current students (hallway, near lecture room 5419.0112)

15.30-17.00

Master classes (lecture rooms: 5419.0101, 5419.0102, 5419.0114, 5419.0124 and computer-rooms in Mercator)
Interactive sessions focused on methods and generic skill development

How to produce powerful plots for conference talks
I. Kashnitsky

Opportunities for Virtual Reality in Population Studies
T. Osborne and G. Weitkamp

Conducting qualitative research with vulnerable populations: tips and considerations
J. Sturge, R. Huizinga and T. Lowe

From 17:00 onwards

Closing ceremony and farewell party (Cafe de Sleutel. 1st floor, Noorderhaven 72, Groningen)

Mingling, music and a Pop quiz
| | |
| --- | --- |
| Last modified: | 13 January 2020 10.07 a.m. |