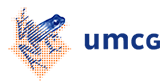 Metabolic Signaling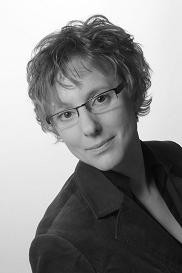 Prof. Kathrin Thedieck: joined Oldenburg University and the University Medical Center Groningen (UMCG) in 2013 in the frame of the European Medical School (EMS).
Research:
The Lab for Metabolic Signaling studies the control of metabolic homeostasis by the mammalian target of rapamycin (mTOR). We adopt cell biology, biochemistry, proteomics, and systems biology approaches. The mTOR signaling network is deregulated in a large number of tumors and is involved in aging related disorders such as metabolic and neurodegenerative diseases. mTOR kinase resides in two structurally and functionally distinct multiprotein complexes, named mTOR complex 1 (mTORC1) and mTORC2. mTORC1, in response to growth factors (insulin), nutrients (amino acids), energy (ATP), and stresses, controls growth related processes such as translation, ribosome biogenesis, and autophagy. mTORC2 is a central metabolic regulator as well, which is involved in lipid and glucose homeostasis.
Our lab analyzes the mTOR interactome and signaling by proteomic and biochemical methods (Schwarz et al., 2015). We study mTOR crosstalk with other cancer signalling ( Thien et al., 2015 ) and stress networks ( Thedieck et al. 2013 ).Systems biology approaches are adopted to unravel novel regulatory connections within the mTOR network ( Dalle Pezze et al. 2012 , Sonntag et al. 2012 ).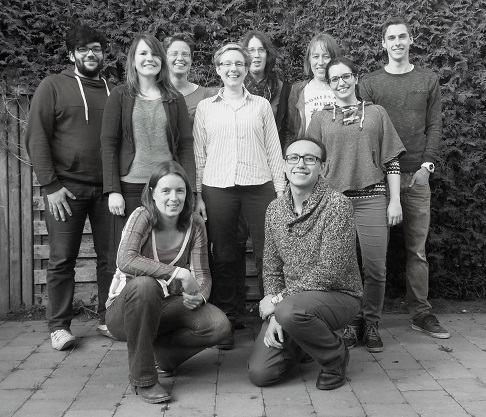 Alexander Heberle (PhD student)
Mirja Tamara Prentzell (PhD student)
Dr. Karen van Eunen (postdoc)
Prof. Kathrin Thedieck (lab head)
Stefanie Ruf (PhD student)
Miriam Langelaar (technician)
Patricia Razquin (PhD student)
Jorn van der Velde (student technician)
Ineke Kuper (technician)
Marti Cadena (master student)
Names indicated from left to right, and back to front.
Employment/Experience:
2013-present

Associate Professor, Lab for Metabolic Signaling, European Medical School, University of Groningen ( NL) and Oldenburg (D)

2008-2013

Group Leader Functional Proteomics of Metabolic Signaling
Dept. for Bioinformatics and Molecular Genetics (Prof. Ralf Baumeister) University of Freiburg (D)

2006-2008

Postdoctoral Fellow
Dept. of Biochemistry (Prof. Michael N. Hall)
Biozentrum, University of Basel (CH)

2002-2005

PhD Thesis and Postdoc
Div. of Cell and Immune Biology (Prof. J. Wehland and Dr. L. Jänsch
Hemholtz Centre for Infection Research (HZI) and TU Braunschweig (D)

2001-2002

Diploma Thesis and Postgraduate Scientist
BioVisioN AG, Hannover (D)

1998-2001

Ecole Superieure de Biotechnologie Strasbourg (ESBS) (F)

1996-1998

Westfälische Wilhelms Universität Münster (D)
Honors, Awards, and Scholarships:
2002-2005: Georg-Christoph-Lichtenberg Fellowship (for PhD thesis)
2004: Selected Helmholtz delegation member: 18th meeting of Nobel Laureates in Physics
2006/2007: Mentee: Women into Industry program (WIN) of Novartis and the Basel University
2007-2008: PostDoc Fellowship of the Peter und Traudl Engelhorn Stiftung
2009-2010: Schlieben-Lange Fellowship,

Federal State of Baden-Württemberg
2013: Junior Fellowship, Freiburg Institute for Advanced Studies (FRIAS)
2013: Offer of a chair in Nutrigenomics, University of Hohenheim
2013-2018: Rosalind-Franklin-Fellowship, University of Groningen
Service to the scientific community:
2012-present: International Scientific Advisory Board: Int. Study Group for Systems Biology (ISGSB)

since 2015: Editorial Board: Pharmacological Research
Publications:
Schwarz JJ*, Wiese H*, Toelle RC, Zarei M, Dengjel J, Warscheid B°, Thedieck K°.
Functional proteomics identifies acinus L as a direct insulin- and amino acid-dependent mTORC1 substrate.
Mol Cell Proteomics. 2015 Apr 23. pii:mcp.M114.045807 [Abstract]
Thien, A*, Prentzel, MT*, Holzwarth, B, Klaesener, K, Kuper, I, Boehlke C, Sonntag A G, Ruf S, Maerz L, Nitschke R, Grellscheid SN, Reth M, Walz G, Baumeister R, Neumann-Haefelin E° , Thedieck K° TSC1 activates TGF-β - Smad2/3 signaling in growth arrest and epithelial to mesenchymal transition. Developmental Cell, 2015 Mar 9; 32 (5):617–630. doi: 10.1016/j.devcel.2015.01.026. PubMed PMID: 25727005 [Abstract]
Free access (until April 28, 2015): http://authors.elsevier.com/a/1Qg475Sx5gPPDu
View also the comment in Science Signaling "TSC1 strikes out on its own" Sci. Signal., 24 March 2015 Vol. 8, Issue 369, p. ec66 DOI: 10.1126/scisignal.aab1622
Heberle AM, Prentzell MT, van Eunen K, Bakker BM, Grellescheid SN, Thedieck K° Molecular mechanisms of mTOR regulation by stress.
Molecular and Cellular Oncology, in press. DOI: 10.4161/23723548.2014.970489
Wahane SD*, Hellbach N*, Prentzell MT*, Weise SC, Vezzali R, Kreutz C, Timmer J, Krieglstein K, Thedieck K ° , Vogel T ° . PI3K-p110-alpha-subtype signalling mediates survival, proliferation and neurogenesis of cortical progenitor cells via activation of mTORC2. J Neurochem. 2014 Jul;130(2):255-67. doi: 10.1111/jnc.12718. Epub 2014 May 3. PubMed PMID: 24645666. [Abstract]
Arnold CR, Pritz T, Brunner S, Knabb C, Salvenmoser W, Holzwarth B, Thedieck K ° , Grubeck-Loebenstein B ° . T cell receptor-mediated activation is a potent inducer of macroautophagy in human CD8(+)CD28(+) T cells but not in CD8(+)CD28(-) T cells. Exp Gerontol. 2014 Jun;54:75-83. doi: 10.1016/j.exger.2014.01.018. Epub 2014 Jan 24. PubMed PMID: 24468331. [Abstract]
Thedieck K°, Holzwarth B, Prentzell MT, Boehlke C, Kläsener K, Ruf S, Sonntag AG, Maerz L, Grellscheid SN, Kremmer E, Nitschke R, Kuehn EW, Jonker JW, Groen AK, Reth M, Hall MN, Baumeister R.
Inhibition of mTORC1 by Astrin and Stress Granules Prevents Apoptosis in Cancer Cells. Cell. 2013 Aug 15;154(4):859-874. doi: 10.1016/j.cell.2013.07.031. PubMed PMID: 23953116. [Abstract]
View also the comment in Cancer Discovery "Astrin Maintains Balanced mTORC1 Signaling under Cellular Stress" Cancer Discovery October 2013 3; OF1; Published OnlineFirst August 29, 2013; doi: 10.1158/2159-8290.CD-RW2013-191
Dalle Pezze P*, Sonntag AG*, Thien A, Prentzell MT, Gödel M, Fischer S, Neumann-Haefelin E, Huber TB, Baumeister R, Shanley DP°, Thedieck K°.
A dynamic network model of mTOR signaling reveals TSC-independent mTORC2 regulation. Sci Signal. 2012 Mar 27;5(217):ra25. doi: 10.1126/scisignal.2002469. PubMed PMID: 22457331. [Abstract]
View also the perspective by Diane C. Fingar and K. Inoki. "Deconvolution of mTORC2 "in Silico"
Piero Dalle Pezze*, Annika G. Sonntag*, Daryl P. Shanley°, Kathrin Thedieck°
Response to Comment on "A Dynamic Network Model of mTOR Signaling Reveals TSC-Independent mTORC2 Regulation"
SCIENCE Signaling (2012) Jul 10;5(232):lc4.
*This is a related yet independent publication in which we respond with new data to several questions regarding the above study, raised by Prof. B. D. Manning, Harvard University, Boston, US.
Sonntag AG,* Dalle Pezze P*, Shanley DP°, Thedieck K°.
A modelling-experimental approach reveals insulin receptor substrate (IRS)-dependent regulation of adenosine monosphosphate-dependent kinase (AMPK) by insulin. FEBS J. 2012 Sep;279(18):3314-28. doi: 10.1111/j.1742-4658.2012.08582.x. Epub 2012 May 3. PubMed PMID: 22452783. [Abstract]
Lankisch TO, Metzger J, Negm AA, Vosskuhl K, Schiffer E, Siwy J, Weismüller TJ, Schneider AS, Thedieck K, Baumeister R, Zürbig P, Weissinger EM, Manns MP, Mischak H, Wedemeyer J.
Bile proteomic profiles differentiate cholangiocarcinoma from primary sclerosing cholangitis and choledocholithiasis. Hepatology. 2011 Mar;53(3):875-84. doi: 10.1002/hep.24103. Epub 2011 Jan 3. PubMed PMID: 21374660 [Abstract]
Kathrin Thedieck and Michael N. Hall
Translational Control by Amino Acids and Energy.
The Handbook of Cell Signaling, R. Bradshaw and E. Dennis (editors), 2nd edition, 2009.
Jiang H, Schiffer E, Song Z, Wang J, Zürbig P, Thedieck K, Moes S, Bantel H, Saal N, Jantos J, Brecht M, Jenö P, Hall MN, Hager K, Manns MP, Hecker H, Ganser A, Döhner K, Bartke A, Meissner C, Mischak H, Ju Z, Rudolph KL.
Proteins induced by telomere dysfunction and DNA damage represent biomarkers of human aging and disease. Proc Natl Acad Sci U S A. 2008 Aug 12;105(32):11299-304. doi: 10.1073/pnas.0801457105. Epub 2008 Aug 11. PubMed PMID: 18695223; PubMed Central PMCID: PMC2516278. [Abstract]
Thedieck K*, Polak P*, Kim ML, Molle KD, Cohen A, Jenö P, Arrieumerlou C, Hall MN.
PRAS40 and PRR5-like protein are new mTOR interactors that regulate apoptosis. PLoS One. 2007 Nov 21;2(11):e1217. PubMed PMID: 18030348; PubMed Central PMCID: PMC2075366. [Abstract]
Thedieck K*, Hain T*, Mohamed W, Tindall BJ, Nimtz M, Chakraborty T, Wehland J, Jänsch L.
The MprF protein is required for lysinylation of phospholipids in listerial membranes and confers resistance to cationic antimicrobial peptides (CAMPs) on Listeria monocytogenes. Mol Microbiol. 2006 Dec;62(5):1325-39. Epub 2006 Oct 17. PubMed PMID: 17042784 [Abstract]
*equally contributing °corresponding author
Patents:
K Thedieck, AG Sonntag, P Dalle Pezze, DP Shanley. Method for modeling, optimizing, parameterizing, testing and/or validating a dynamic network or network perturbation. Priority date June 1 2011 (Publication n° WO2012163440).
K Thedieck, B Holzwarth, R. Baumeister. Modulators of the interaction of astrin and raptor, and uses thereof in cancer therapy. Priority date Jan. 11 2013 (Publication n° WO2014108532).

| | |
| --- | --- |
| Last modified: | 07 July 2020 11.32 a.m. |