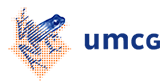 EC. 2.7.1.6

Galactokinase 1 en 2 (Galkinase) (aandoening: galactosemie)
Galactosemie, een galactose-intoxicatie syndroom t.g.v. een autosomaal recessief overervende metabole stoornis, werd voor het eerst beschreven in 1935 door Mason & Turner. Galactose komt voornamelijk het lichaam binnen met de voeding, in de vorm van lactose (een disaccharide). Hydrolyse van lactose geeft twee monosacchariden, nl. glucose en galactose.In het lichaam wordt galactose hoofdzakelijk omgezet in glucose, hierbij zijn vier enzymatische stappen van belang:
1. Galactose + ATP <----> Galactose-1-phosphate + ADP (gekatalyseerd door galactokinase)
2. Galactose-1-phosphate + UDP-glucose <-----> UDP-galactose + glucose-1-phosphate (gekatalyseerd door GalPUT)
3. UDP-galactose <-----> UDP-glucose (gekatalyseerd door UDP-galactose-4-epimerase)
4. UDP-glucose + PP <-----> UTP + glucose-1-phosphate (gekatalyseerd door UDP-glucose pyrophosphorylase)
Tot op heden zijn er drie enzymdeficiënties ontdekt die galactosemie veroorzaken:
Galactose-1-phosphate uridyltransferase (GalPUT) deficiëntie
Galactokinase (GK) deficiëntie
UDP-galactose-epimerase (EP)deficiëntie.
GalPUT-deficiëntie is van deze drie de meest voorkomende, en heeft de meest ernstige klinische verschijnselen tot gevolg; hepatomegalie, cataracts (tgv. van ophoping van galactitol), en mentale retardatie. Behalve galactose worden in geval van GalPUTdeficiëntie ook andere metabolieten, nl. galactitol en galactose-1-fosfaat met de urine uitgescheiden. Bovendien is er bij deze patiënten ook sprake van een verlaagde UDP-galactose concentratie in erythrocyten.
Galactokinase-deficiëntie gaat samen met juveniele cataracts en een verhoogde galactose concentratie in plasma en urine.
UDP-galactose-epimerase deficiëntie is onder te verdelen in drie vormen:
een ernstige gegeneraliseerde vorm met een verhoogde UDP-galactose concentratie in erythrocyten
een perifere vorm zonder duidelijke symptomen
een perifere vorm met juveniele cataracts.
Vrijwel alle symptomen die optreden bij deze drie deficiënties, en met name cataracts, kunnen worden voorkomen wanneer men in een vroeg stadium start met een galactose-vrij dieet. Er zijn echter nog veel onduidelijkheden met betrekking tot de therapie.
Principe van de enzymassay:
De assay is gebaseerd op radiochemische meting van de hoeveelheid 14C-gelabeld galactose-1-phosphate, die onder invloed van galactokinase uit de substraten galactose (14C-gelabeld) en ATPgevormd wordt;
Galactokinase
galactose* + ATP --------------------------> galactose-1-phosphate* + ADP
De scheiding van het radioactieve produkt (galactose-1-phosphate*) van het substraat (galactose*) wordt uitgevoerd met behulp van papierchromatografie.
Benodigd materiaal: erythrocyten, leukocyten.
Referenties:
Holton JB, Walter JH, Tyfeld LA. Galactosemia. In:Scriver CR, Beaudet AL, Sly WS, Valle D, eds.The Metabolic and Molecular Bases of Inherited Disease. 2001; 8 edtion: 1553-1589
Sheets Lee, J.E., Won G. Ng., Clinica Chimica Acta, 1982 (351-356).
Stryer, L., Biochemistry, 3d ed. W.H. Freeman & Company, New York, 1988.
| | |
| --- | --- |
| Last modified: | 23 February 2015 4.47 p.m. |