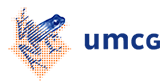 EC. 3.5.1.12
Biotinidase (Biotinamide-amidohydrolase)
(aandoening: Biotinidase deficiëntie,juveniele veelvoudige carboxylase deficiëntie)
Biotinidase is een amidohydrolase, welke biotine afsplitst van kleine eiwitten en biocytine. Biotine (vitamine H), behoort tot het vitamine-B-complex. De B-vitaminen zijn o.m. van grote betekenis voor de stofwisseling van koolhydraten en aminozuren, en ontlenen hieraan hun belang voor de funktie van het zenuwstelsel. Door de werking van biotinidase wordt biotine gerecycled.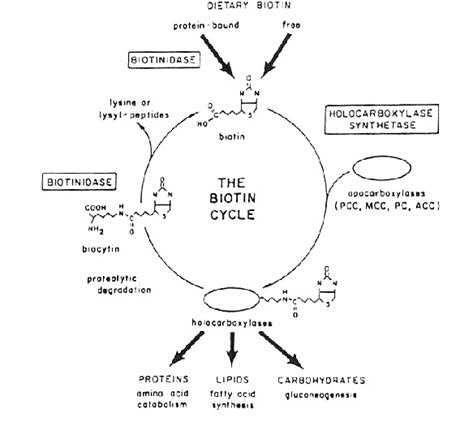 Biotinidase-deficiëntie is een autosomaal recessief overerfelijke ziekte. Wanneer bij onbehandelde patiënten de biotinevoorraad uitgeput raakt, treden er secundaire deficiënties op van biotine-afhankelijke carboxylases (pyruvaat carboxylase, ß-methyl-crotonyl-CoA carboxylase, propionylcarboxylase, en waarschijnlijk ook acetyl CoA carboxylase).
Kinderen met een ernstige biotinidase-deficiciëntie (<10% van de gemiddelde normale aktiviteit bij volwassenen), vertonen mogelijk de volgende verschijnselen; hypotonie, alopecia ('vossehuid'; haaruitval, kaalhoofdigheid), huiduitslag, gehoorverlies, ontwikkelingsachterstand, keto-lactacidose en organo-acidurie.
Kinderen met partiële biotinidase-deficiëntie (10-30% van de gemiddelde normale volwassenenaktiviteit) lopen risico op ontwikkelingsstoornissen wanneer ze blootgesteld worden aan stress (zoals infecties of beperkte biotine-inname met het dieet). Pharmacologische biotine-doses, oraal toegediend, kunnen de symptomen verlichten of zelfs voorkomen wanneer in een vroeg stadium gestart wordt met de behandeling.
Principe van de enzymassay:
Biotinidase splitst de amide-binding van het synthetische substraat biotinyl-r-aminobenzoëzuur (BioPABA, een analoog van biocytine). Dit resulteert in twee produkten, nl. vrij biotine en r-aminobenzoëzuur (PABA). PABA wordt vervolgens gediazotiseerd, en gebonden aan een naphtol-reagens (N-(-1-Naphtyl)ethylenediamine-dihydrochloride), zodat er een purperkleurig produkt ontstaat dat spectrofotometrisch gekwantificeerd kan worden. Wanneer er geen biotinidase-aktiviteit aanwezig is, wordt er geen naphtol-complex gevormd, en treedt er geen kleurontwikkeling op.
Benodigd materiaal: plasma
Referenties:
Wolf B . Disorders in Biotin Metabolism In:Scriver CR, Beaudet AL, Sly WS, Valle D, eds.The Metabolic and Molecular Bases of Inherited Disease. 2001; 8 edtion: 3935-3965
Wolf B e.a., Clin. Chim. Acta, 131 (1983) 273-281
Forman e.a., Annals of clin. and lab. science, Vol. 22, No. 3.
Hommes, F., Techniques in Diagnostic Human Biochemical Genetics - A Laboratory Manual -, 1991, Wiley-Liss Inc., USA, ISBN 0-471-56818-x, p561-563.
| | |
| --- | --- |
| Last modified: | 05 August 2020 1.24 p.m. |