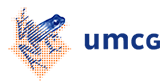 EC. 3.2.1.76
α- L- iduronidase (MPS 1; Hurler, Scheie, Hurler-Scheie)
De Mucopolysaccharidosen (MPS) vormen een groep ziektebeelden die veroorzaakt wordt door deficiëntie van lysosomale enzymen welke noodzakelijk zijn voor de stapsgewijze afbraak van mucopolysacchariden (glycosaminoglycanen). Afhankelijk van de enzymdeficiëntie treedt er een blok op in de afbraak van dermatan sulfaat, heparan sulfaat, keratan sulfaat, of een combinatie hiervan. Ook de afbraak van chondroitin sulfaat kan hierbij betrokken zijn. De niet-afgebroken glycosaminoglycanmoleculen worden opgeslagen in de lysosomen. Deze ophoping leidt uiteindelijk tot cel-, weefsel- of orgaandysfunctie. Glycosaminoglycan fragmenten die via alternatieve routes gevormd worden, worden uitgescheiden met de urine.
Op dit moment zijn er 10 enzymdeficiënties welke aanleiding geven tot MPS geidentificeerd.
Het lysosomale enzym a -L- iduronidase hydrolyseert terminale α- L- iduronzuur-residuen van dermatansulfaat en heparansulfaat . Deficiëntie van α- L- iduronidase kan resulteren in een groot aantal klinische verschijnselen.
Hierbij zijn drie hoofdgroepen te onderscheiden:
Het syndroom van Hurler, deze groep vertoont de meest ernstige klinische verschijnselen.

De diagnose van dit syndroom wordt meestal gesteld op een leeftijd tussen 6 en 24 maanden. Men ziet vaak een combinatie van een vergrote lever en milt, skelet-vervormingen, grove gelaatstrekken, een vergrote tong, een prominent voorhoofd en gewrichtsstijfheid. Het syndroom van Hurler is een progressief ziektebeeld, wat resulteert in een vroegrijdige dood; gewoonlijk worden patiënten niet ouder dan een jaar of 10.

Het syndroom van Scheie, dit is de mildste vorm van α- L- iduronidase-deficiëntie.

De klinische verschijnselen die men hierbij aantreft zijn: gewrichtsstijfheid, problemen met aorta-kleppen, vertroebeling van het hoornvlies en enkele andere lichamelijke klachten. Geestelijke ontwikkeling en postuur zijn normaal. De eerste symptomen openbaren zich gewoonlijk na het vijfde levensjaar, de diagnose wordt meestal tussen het tiende en twintigste levensjaar gesteld.

Het Hurler-Scheie syndroom, wat qua ernst van klinische verschijnselen tussen beide voorgaande groepen ligt. Bij deze vorm ziet men de eerste verschijnselen tussen het derde en achtste levensjaar. Patiënten bereiken gewoonlijk de volwassen leeftijd, hoewel hartproblemen en obstructie van de bovenste luchtwegen tot een vroegtijdige dood kunnen leiden.
Biochemisch is er geen onderscheid te maken tussen de drie genoemde groepen; bij alle vindt men een sterk verhoogde uitscheiding van dermatan en heparan-sulfaat met de urine, afwezigheid van a -L-iduronidase-activiteit, en ophoping van glycosaminoglycan in fibroblasten.
Principe van de enzymassay:
Het patiëntenmateriaal wordt geïncubeerd met het synthetische substraat 4-methylumbelliferyl-α- L- iduronide; door de werking van α- L- iduronidase wordt 4-methylumbelliferon (4MU) afgesplitst. De hoeveelheid 4MU die zodoende vrijkomt is een maat voor de enzymactiviteit, en is fluorometrisch te bepalen.
Benodigd materiaal: leukocyten of fibroblasten.
Referenties:
Neufeld EF, Muenzer J., The Mucopolysaccharidoses. In:Scriver CR, Beaudet AL, Sly WS, Valle D, eds.The Metabolic and Molecular Bases of Inherited Disease. 2001; 8 edtion: 3421-3453
| | |
| --- | --- |
| Last modified: | 23 February 2015 4.36 p.m. |