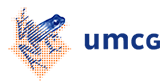 Stage of Afstuderen
This information is also available in English: MSc. or BSc. Projects
Ben je geïnteresseerd in oncologisch onderzoek?
Weet je nog niet of het medisch biologisch kankeronderzoek wat voor jou is, maar wil je je er wel eens serieus in verdiepen?
Zoek je een stageplaats waar je in aanraking komt met een grote variatie aan moleculair-biologische en celbiologische technieken?
Zegt translationeel onderzoek je (nog) niets, maar ben je vastbesloten jouw fundamentele kennis in de toekomst meer toepassingsgericht te gaan aanwenden?
Dan is een stage of onderzoeksproject in het Laboratorium van de afdelingen Medische Oncologie en Gynaecologische Oncologie mogelijk iets voor jou.
Bij Medische Oncologie en de Gynaecologische Oncologie is er (bijna) altijd plaats voor geïnteresseerde studenten. Er lopen verschillende onderzoekslijnen waarin je kunt participeren.
De vakgroep Medische Oncologie werkt aan het identificeren en karakteriseren van nieuwe therapeutische targets, het verhogen van de gevoeligheid van tumoren voor chemotherapie en het ontwikkelen van betere strategieën en moleculaire biomarkers om tumoren op te sporen door middel van imaging. Verder voeren we vroege klinische studies uit met nieuwe medicijnen, onderzoeken we hoe we palliatieve zorg in kankerpatiënten kunnen verbeteren, en hoe bijwerkingen van therapie in genezen kankerpatiënten verminderd kunnen worden.
De vakgroep Gynaecologische Oncologie doet onderzoek naar het verbeteren van de huidige baarmoederhalskanker-screening methoden, en onderzoekt de rol van bekende en onbekende genen en cellulaire signaleringsroutes in de therapierespons.
Zie voor een overzicht en meer uitleg: Research Lines
Het soort onderzoek
Afhankelijk van het soort onderzoeksproject en het moment waarop je instapt in het tijdspad van een project is het onderzoek meer fundamenteel, translationeel of meer gericht op de klinische praktijk. Hieronder staat een schema waarin de route van de ontwikkeling van een nieuw anti-kanker medicijn gericht tegen een specifiek eiwit in kankercellen wordt beschreven (vrij naar: ClinicalCancer Research September 2008 14; 5685).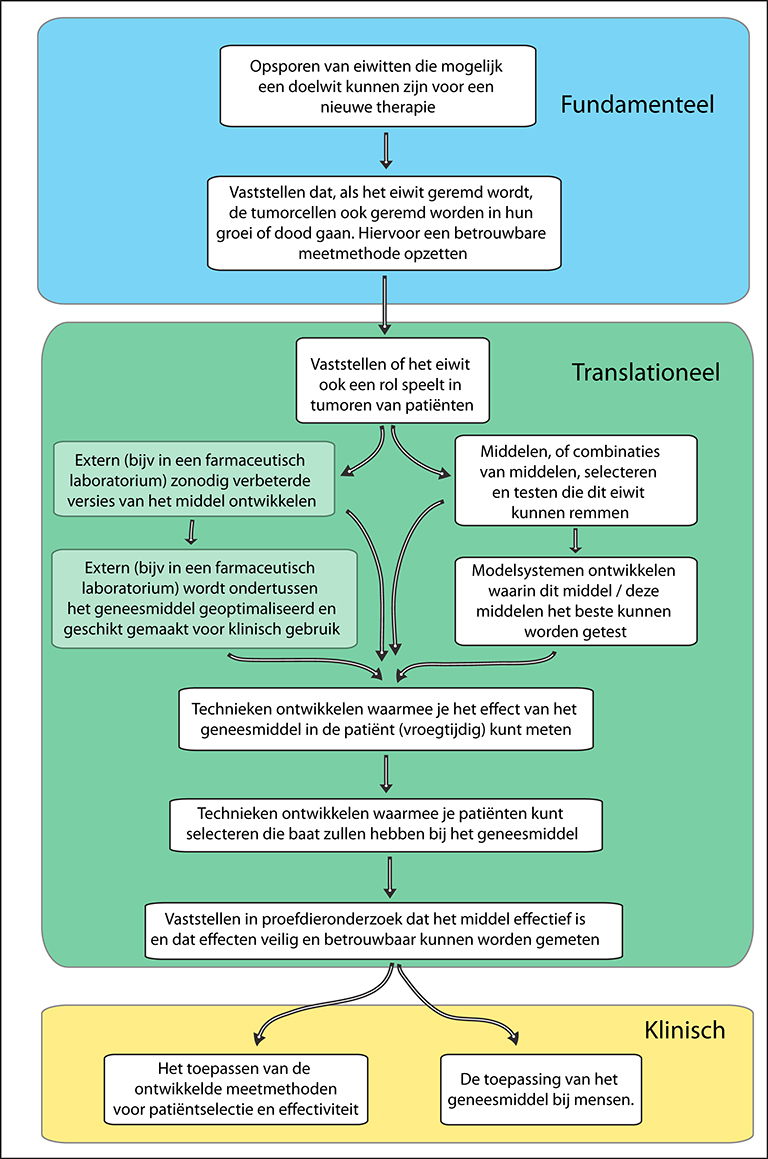 Je kunt je voorstellen dat dit een proces van jaren is. Het onderzoek binnen ons laboratorium speelt zich voornamelijk af in het translationele gebied van deze route. Maar er zijn ook "uitlopers" naar de fundamentele en de klinische kant. Daarnaast hebben we nauwe samenwerkingsverbanden met farmaceutische laboratoria en bedrijven die werken aan de ontwikkeling van nieuwe medicijnen.
De technieken zijn zeer gevarieerd, bijvoorbeeld:
kweken van tumor(stam)cellen als model systeem
transfectie van een specifiek gen in cellen om de rol van dat gen te kunnen bepalen
het selectief uitschakelen van een gen met siRNA om de rol te bepalen
Meten van groeiremming of celdood in vitro
Meten van genexpressie met RT-PCR in gekweekte cellen en tumormateriaal
Meten van genmethylatie met methylatie specifieke PCR in gekweekte cellen en tumormateriaal
analyseren van de cellulaire eiwitten met eiwit electroforese en western blotting
analyseren van de cellulaire eiwitten in tumormateriaal met immuunhistochemie
analyseren van eiwitten in cellen met flowcytometrie
localiseren van eiwitten en hun interactie in de cel met immuunfluorescentie
Ontwikkelen van radioactief gelabelde antilichamen (tracers) voor PET scanning om eiwitten in tumoren in vivo te kunnen meten
In vitro en pre-klinische (in proefdieren) evaluatie van de PET tracers
Meten van de migratie van cellen als maat voor hun vermogen om uitzaaiingen te vormen
Het weer in kweek brengen van tumormateriaal voor ex-vivo analyse
Contact
Ben je student aan het Hoger Laboratorium Onderwijs, bij Farmacie of Farmaceutische Wetenschappen, Geneeskunde, Biologie, Biomedische Wetenschappen, Moleculaire Levenswetenschappen, Biochemie of een verwante studierichting?
Ben je geïnteresseerd en gemotiveerd?
Zie je onderzoek en samenwerking met onderzoekers met zeer wisselende achtergronden, van verschillende nationaliteiten, maar met een gedeelde onderzoeksambitie wel zitten?
Maak een afspraak en kom eens kijken. We informeren je graag over de projecten en de stagemogelijkheden. Neem voor meer informatie over stageplekken contact op met de betreffende onderzoekers.
| | |
| --- | --- |
| Last modified: | 31 October 2022 4.01 p.m. |