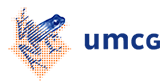 MSc. or BSc. projects
This information is also available in Dutch: Stage of Afstuderen
Are you interested in oncological research?
You are not sure yet whether medical biological cancer research is suited for you, but you would like to get into it in more detail?
You are looking for an MSc. or BSc. research project with a large variety in molecular-biological and cell biological techniques?
You are determined to use your fundamental knowledge to practical and clinical applications in the future?
A research project at the laboratory of the departments of Medical Oncology and Gynaecological Oncology might be something for you!
The departments of Medical Oncology and Gynaecological Oncology (almost) always have research projects available for engaged students. You can participate in several research lines.
The department of Medical Oncology works on the identification and characterization of novel therapeutic targets, the development of better imaging strategies and molecular biomarkers for tumor detection and patient monitoring. They investigate how to increase tumor sensitivity for chemotherapeutic drugs, perform early clinical studies with novel therapeutics, investigate palliative care in cancer patients, and work on the reduction of side effects of therapy in cancer survivors (healthy aging).
The department of Gynaecological Oncology investigates the current screening methods for cervical cancer, and determines the role of known and unknown genes and cellular signaling routes in response to cancer therapy.
For an overview and background information of both research groups, see: Research Lines
The type of research
Depending on the subject of the research project and the moment you start participating in an existing project, the research will either be more fundamental, translational or clinical. In the figure below a flowchart of the development of a new drug is depicted. (Adapted from: Clinical Cancer Research September 2008 14; 5685) .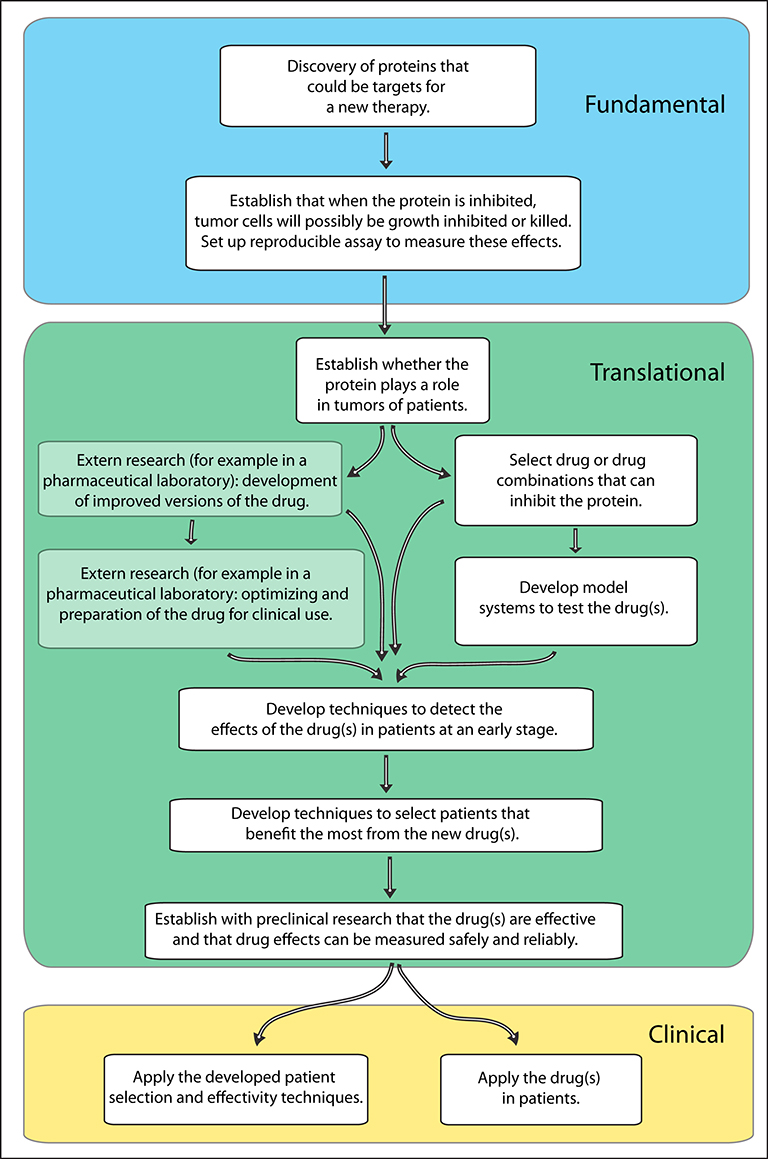 As you can imagine, this process takes many years. The research at our laboratory is mainly translational. However, some projects are directed more towards fundamental or clinical research. Furthermore, we closely collaborate with pharmaceutical laboratories and companies that work on the development of new drugs.
The techniques we use vary widely:
Culturing tumor (stem) cells and cell lines

Transfecting specific genes in cells to determine the role of those genes

Selectively knock down genes with siRNA to determine the role of those genes

Determine growth arrest or programmed cell death (apoptosis) in vitro

Determine gene expression with RT-PCR in cultured cell lines and tumor tissue

Determine gene methylation status with methylation-specific PCR in cultured cell lines and tumor tissue

Analyze cellular proteins with electrophoresis and Western blots

Analyze cellular proteins in tumor tissue with immunohistochemistry

Analyze cellular proteins with flowcytometry (FACS)

Localize proteins and their interactions with immunofluorescence

Developing radio active labeled antibodies (tracers) for PET scans to be able to detect specific proteins in tumors in vivo

In vitro and preclinical (using laboratory animals) evaluation of PET tracers

Determine cell migration to predict the chance tumor cells will form metastases

Culture tumor tissue for ex vivo analysis
Contact
Are you an MSc or BSc. student with a specialization in pharmacy, pharmaceutical sciences, medical sciences, biology, biomedical sciences, molecular biology, biotechnology, or a related subject?

Are you interested in our type of research and motivated?
Does performing research and collaborating with researchers from various backgrounds, of various nationalities, but with a shared research goal appeal to you?
Just make an appointment and come visit us. We are very willing to inform you about our projects and the possibilities to do a Msc. or Bsc. research project at our departments.
Please note that we are interested in accepting students from abroad, however, we kindly ask foreign students who wish to participate in any of the research projects in our department to bring their own funding.
At this moment, no MSc/BSc project positions are available. Students are welcome to start projects from August 2023 onwards. Please contact the Pls directly per email.
| | |
| --- | --- |
| Last modified: | 24 June 2022 1.50 p.m. |