Structure/function relationships
• 2-hydroxy-carboxylate transporter family (2HCT)
• glutamate transporter family
Members of the 2HCT family are only found in prokaryotes and function in citrate and malate metabolic pathways. Four transporters are studied, CitS of Klebsiella pneumoniae, CitP and MleP of lactic acid bacteria, and CimH of Bacillus subtilis. CitS is a sodium ion motive force driven citrate transporter, responsible for citrate uptake during anaerobic growth of Klebsiella pneumoniae. The citrate transporter CitP and the malate transporter MleP are involved in secondary proton motive force generating pathways in lactic acid bacteria. They catalyze electrogenic exchange of the divalent precursor, i.e. citrate or malate, for the monovalent metabolic end-product lactate. CimH transports both citrate and malate in symport with protons. Its precise function is unknown. The rationale behind the study of different transporters from one family is to benefit from the different functional properties while the mechanism and global structure of the proteins is the same.
The transporters contain 11 transmembrane segments with the N-terminus placed in the cytoplasm. One hydrophic segment long enough to span the membrane (segment VB) is translocated the membrane during the insertion process, resulting in a periplasmic location. A second segment (TMS VIII) is inserted only after synthesis of the next segment (TMS IX). The cytoplasmic loop between TMS X and TMS XI is believed to be involved in catalysis. An Arg residue located at the cytoplasmic membrane/water interface directly interacts with one of the carboxylate groups of the substrates. Residues in the preceding loop are accessible from the periplasmic side of the membrane and their accessibility is controlled by the catalytic state of the transporter.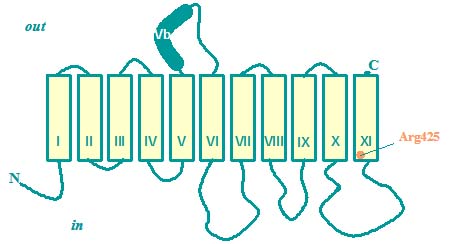 The second family, the glutamate transporter family is widely spread in nature and members are found in bacteria, eukarya and archaea. Prominent members are the Na+-dependent glutamate transporters found in the central nervous system that are responsible for the reuptake of glutamate from the synaptic cleft in glutamatergic neurotransmission. The bacterial homologue GltT studied in the lab is from the thermophilic Bacillus stearothermophilus and functions in the uptake of glutamate, mainly for biosynthetic purposes.
Hydropathy profile analysis suggested an atypical architecture for the transporters in the glutamate transporter family, which was confirmed by experiment. Unlike other secondary transporters, the proteins contain pore-loop structures, commonly observed in channel proteins. The transporters consist of 8 transmembrane segments, both the N- and C-terminal are located in the cytoplasm. Two reentrant loops fold back between the helices, one from each side. One between TMS VI and VII, and one between VII and VIII. Especially, the former is believed to play an important role in catalysis. C-terminal TMS VIII has a strong amphipatic character. Moreover, the conservation of residues at the hydrophilic side is high. The residues are accessible from the water phase, indicating that the helix flanks a water filled pore, presumably the translocation pathway.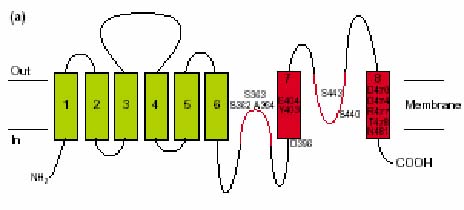 | | |
| --- | --- |
| Last modified: | 14 May 2019 2.27 p.m. |