Adaptive logistics in circular economy | Dieu Linh Hoang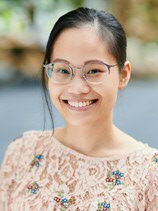 Field | Discipline
Biomass & bioenergy
Nutrient recycling
Environmental sciences
Expertise
Environmental Management System
Industrial Ecology
Circular Economy
Biogas
Summary
Within a Circular Economy, three interdependent cyclic systems emerge around:
biological nutrients

technical nutrients

energy capture
Biomass plays a pivotal role as biological nutrient and as nutrient for biogas. Biogas is currently not economically viable in the Netherlands without subsidies. This state of affairs is related to logistics costs. Transport of biomass, of biogas and of digestate is too expensive to warrant a viable circular economy around biogas. The project will focus on achieving economic viability by new technologies and by new organizational forms.
This project will select viable configurations of value-adding activities related to biomass and biogas in a Circular Economy. The project uses simulation models, supply chain theory and case studies to explore viable configurations. These models, theories and case studies are used over the whole project lead time.
Firstly, the business ecosystem involved is studied by simulation models. An important factor leading to high (logistics) costs is economy-of-scope: many processes related to biogas require a certain scale for economic viability. Secondly, the ecosystem concerned is studied via its organization: roles, markets, supply chains and co-operations largely determine transport frequency, volumes, predictability, returns and ultimately therefore costs. Thirdly, the project investigates current "organizational" configurations in practice: which parties should collaborate in co-operatives, where could supply chain co-operation be useful, and where are markets needed?
Last but not least, the whole project is aware of the need for organic growth from current to future configurations. Accordingly, much attention is paid to adaptability of technical and organizational configurations.
---

Supervision by

This PhD research is part of the Adaptive Logistics in Circular Economy 'ADAPNER' project | Read more
More information and contact details can be found on the personal profile of Dieu Linh Hoang
| | |
| --- | --- |
| Last modified: | 11 April 2023 09.52 a.m. |