HoMH seminar - SIMON SZRETER (University of Cambridge): "Variation is the constant of fertility"
| | |
| --- | --- |
| When: | Tu 29-11-2022 16:00 - 17:00 |
| Where: | Online |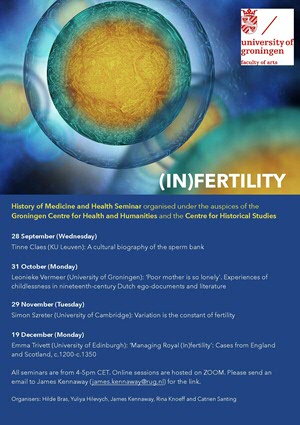 History of Medicine and Health Seminar, organized under the auspices of the Groningen Centre for Health and Humanities and the Centre for Historical Studies.
Abstract
In Fertility, Class and Gender (1996) I argued that to explain secular change in human fertility much more attention should be given to understanding the sources of variation in fertility within groups and between communities than to tracking trends over time in their averaged fertilities. One under-explored aspect of such variation during the era of European fertility declines was due to STIs, an epidemiological factor that demographers have failed to integrate into their accounts of fertility change. In this talk I will discuss these issues.
Info
Online sessions are hosted on ZOOM. Please send an email to James Kennaway (james.kennaway rug.nl) for the link.
Organisers: Hilde Bras, Yuliya Hilevych, James Kennaway, Rina Knoeff and Catrien Santing