Book presentation - BARBARA HENKES: "Sporen van het slavernijverleden in Fryslân"
| | |
| --- | --- |
| When: | Fr 23-04-2021 14:30 - 16:00 |
| Where: | Tresoar - online |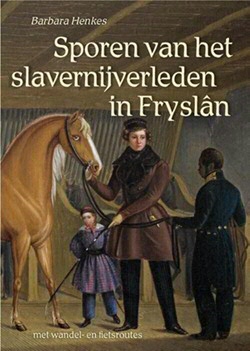 This event will be Dutch-spoken.

Graag nodigen we u uit voor de feestelijke presentatie van de Sporen van het slavernijverleden in Fryslân door Barbara Henkes (ISBN 978 90 5452 395 6; € 17,50) op vrijdagmiddag 23 april om 14.30 uur in Tresoar, Frysk Histoarysk en Letterkundich Sintrum, Leeuwarden
We hopen u via een live stream te kunnen begroeten. Na een inleiding van Barbara Henkes over haar ontdekkingstochten en onverwachte vondsten in de Friese steden en provincie worden de twee eerste exemplaren uitgereikt aan burgemeester Sybrand Buma van Leeuwarden en Jaleesa Schiphorst, een van de voorvrouwen van Black Lives Matter in Friesland.
Als voorproefje sturen we u de eerste indrukken van twee experts:
'Dit rijke en belangrijke boek laat zien dat het Europese achterland van het slavernijsysteem ook achter Friese voordeuren te vinden is,' Karwan Fatah-Black, historicus en auteur van Eigendomsstrijd. De geschiedenis van slavernij en emancipatie in Suriname.
'Ast dit boek lêzen hast, sjochst noait mear op deselde manier nei dy moaie gevels yn de Fryske stêden. It boek biedt in fiergesicht op slavernij. En sa tichtby,' Ate de Jong, sjoernalist en âld-direkteur fan Tûmba, kennissintrum diskriminaasje en diversiteit yn Ljouwert.
Voorafgaand aan de 23ste april verschijnt de link naar de livestream op de website van Tresoar. Nadien zal er ook nog een link komen waarmee u de opname achteraf nog kunt bezien en beluisteren. Voor meer informatie kunt u contact opnemen met: Anton Scheepstra (info uitgeverijpassage.nl) of Lucienne van Dongen (Lucienne.vanDongen tresoar.nl).
Mede namens Tresoar en Uitgeverij Passage, Barbara Henkes.