EPS Seminar Series - JAMES CROSS: "Exploring the role of concreteness and abstraction in committee deliberations in the Council of Ministers of the European Union"
| | |
| --- | --- |
| When: | We 19-04-2023 16:00 - 17:00 |
| Where: | Room 1315.0048, Harmonie building |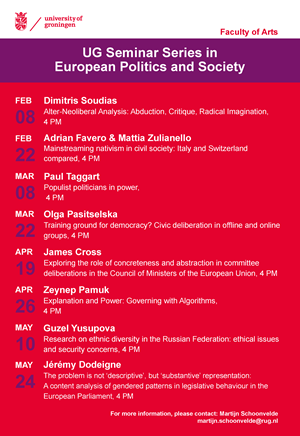 This event is part of the Seminar Series of the theme group European Politics and Society.
If you would like to attend, please contact Martijn Schoonvelde (martijn.schoonvelde rug.nl).
Abstract
Committees are the workhorses of European Union (EU) policy making. They provide a setting for policymakers to put forward positions, identify policy solutions, and build consensus. Committee members who can express concrete and specific arguments are more likely to be effective than those who express themselves in an abstract and esoteric manner. This study examines the role of concreteness and abstraction in the Committee deliberations of the Council of Ministers. We demonstrate how concreteness varies signficantly across policy area, member state representative, and time. We then link this to legislative outcomes by examining the connection between concreteness and voting behaviour on the legislative proposals that were debated in the committee in question. Our results provide new insights into the manner in which member states justify their voting behaviour to one another and the rhetorical structures that shape Council deliberations.