EPS Seminar Series - OLGA PASITSELSKA: "Training ground for democracy? Civic deliberation in offline and online groups"
| | |
| --- | --- |
| When: | We 22-03-2023 16:00 - 17:00 |
| Where: | Room 1312.0013, Harmonie building |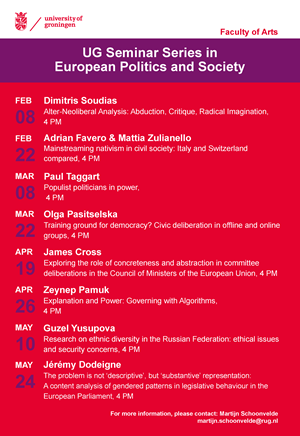 This event is part of the Seminar Series of the theme group European Politics and Society.
If you would like to attend, please contact Martijn Schoonvelde (martijn.schoonvelde rug.nl).
Abstract
Olga will present her work on socially mediated deliberation and discuss current state of the art, and practical and theoretical challenges of studying citizens' interaction in semi-private online spaces. She will start by overviewing her PhD research on social negotiation of propagandistic narratives during the Russian-Ukrainian war and will apply her key insights to the studying of civic deliberation in messenger chat groups. She will outline the theoretical model of online/offline civic infrastructure and the role of messenger chat groups therein. Next, she will present her exploratory project that aims to understand how citizens imagine and use neighborhood chat groups. Arguing for the need to assess the democratic potential of the emerging infrastructure, she will pose some of the pressing questions about the ethics of closed messenger groups research.