EPS Seminar Series - ADRIAN FAVERO & MATTIA ZULIANELLO: "Mainstreaming nativism in civil society: Italy and Switzerland compared"
| | |
| --- | --- |
| When: | We 22-02-2023 16:00 - 17:00 |
| Where: | Room 1312.0013, Harmonie building |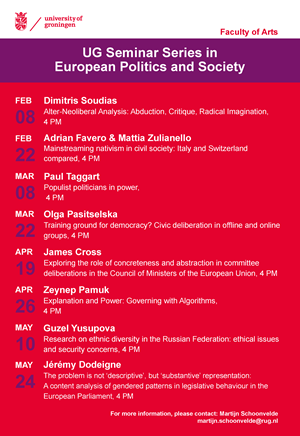 This event is part of the Seminar Series of the theme group European Politics and Society.
If you would like to attend, please contact Martijn Schoonvelde (martijn.schoonvelde rug.nl).
Abstract
In this article, we examine how populist radical right parties' (PRRPs) exploit their central position in the political system to cultivate and legitimise a nativist perception of civil society. As previous research has demonstrated, some PRRPs have succeeded in securing a strong commitment among members to the party's objectives and ideological goals. Such commitment is important to spread these parties' populist radical right ideological features among the broader public and to increase its approachability for ordinary folks. However, apart from the ways in which PRRP's create loyal communities, the identification of the strategies through which such actors mainstream their nativist ideology in the broader society by exploiting a rooted network of activists is still unexplored territory. In our study, we assess how two paradigmatic cases of mainstream populist radical right parties, the Italian League per Salvini Premier and the Swiss People's Party, seek to legitimise nativist messages in civil society by exploiting their central position in the political system and organisational resources at the local level. In particular, by building on over 100 interviews with members (bottom-up perspective) and representatives (top-down perspective) of the populist radical right in Italy and Switzerland, we investigate different types of incentives used by representatives of the League and the Swiss People's Party to cultivate and mainstream a perception of civil society anchored in nativist values by resorting to activities and activism close to people, and how ordinary members perceive their own role in view of this goal.