DemCP Semester Launch and Book Presentation: The Populism Interviews, with LUCA MANUCCI
| | |
| --- | --- |
| When: | We 28-09-2022 15:00 - 16:00 |
| Where: | Room 1312.0012, Harmonie building, and Online |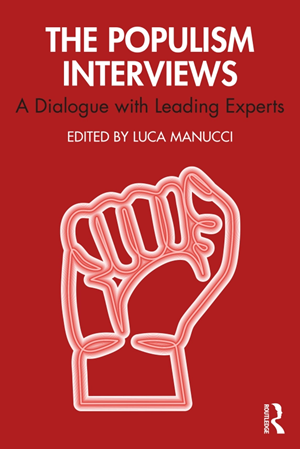 After a short introduction by the Centre's new directors, Florian Lippert and Jennifer Schnepf, we will discuss Luca's book The Populism Interviews which features interviews with leading experts on this most controversial of issues, including UG researchers Melanie Schiller (on "Populism and Music") and Léonie de Jonge (on "Populist Success and Failure"), who will also moderate the discussion.
Populism is a widely debated topic, and it generates interest across the globe. As a result, a burgeoning body of literature deals with many aspects of populism and its links to pressing issues such as media freedom, minority rights and separation of powers. To make sense of such a complex subject, this book presents interviews with some of the leading scholars on populism at the international level.
In the interactive book presentation, we turn the tables to learn more about Luca's research and experience of publishing this edited volume.
About the speaker
Luca Manucci is a researcher at the University of Lisbon, and leads the project Back to the future? Populism and the Legacies of Authoritarian Regimes. He is interested in the link between populism and collective memory. His research also focuses on political communication and political parties. Luca studied in Bologna and Brussels before receiving his PhD from the University of Zurich.
How to attend
You can attend in person in the Harmonie building, or online via Blackboard Collaborate.