FACAM colloquium - DAVID MARTIN-JONES (University of Glasglow): "Floating Heritage: The Cinematic Exploration of Transculturation under Globalization"
| | |
| --- | --- |
| When: | Tu 16-05-2023 18:00 - 20:00 |
| Where: | Exposition room, Harmonie building |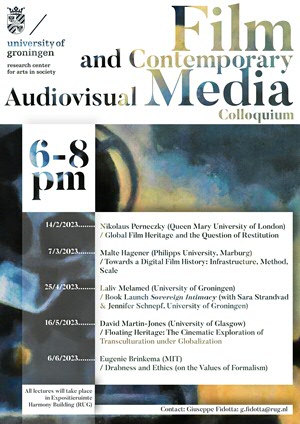 This event is part of the Film and Contemporary Audiovisual Media research colloquium of the Research Centre for Arts in Society.
For more information, contact Giuseppe Fidotta: g.fidotta rug.nl
Abstract
Across a world of cinemas, the many and varied transcultural interactions of our globalized world are being explored. Contemporary films worldwide are investigating how cultural heritage, whether tangible or intangible, is newly 'inherited' at the intersection of the national/transnational, the global/local. What sets this cinematic exploration of transculturation (the meeting and mingling of cultures) apart from previous examinations of it is that the dynamic interplays created when flows of people and money under globalization criss-cross the world is more varied than was the case during colonial eras. The nuances of these complex dynamics are illuminated through the comparison of films worldwide which engage with transnational formations of cultural heritage encountered 'floating' across borders. A spectrum of border-crossing experiences emerge, ranging from the tourist's joyful exuberance to the necessity of the transnational labourer, to the anxiety of the immigrant or refugee's potentially perilous journey, to the dangers inherent to international disease transmission. This is evident in films from Bollywood, Europe, Latin America and Africa.
About the speaker
David Martin-Jones is Professor of Film Studies, University of Glasgow, UK. His specialism is film-philosophy, and his research engages with world cinemas. He is the author/editor of nine books, including Deleuze and World Cinemas (shortlisted for the BAFTSS Annual Book Award), Cinema Against Doublethink, and Columbo: Paying Attention 24/7 (shortlisted for the MeCCSA Best Monograph Award). He has published in numerous journals including Cinema Journal, Screen, Third Text, Film-Philosophy, Deleuze and Guattari Studies and Transnational Screens, and is co-editor of the Bloomsbury monograph series Thinking Cinema.