FACAM colloquium - MALTE HAGENER (Philipps University, Marburg): "Towards a Digital Film History: Infrastructure, Method, Scale"
| | |
| --- | --- |
| When: | Tu 07-03-2023 18:00 - 20:00 |
| Where: | Exposition room, Harmonie building |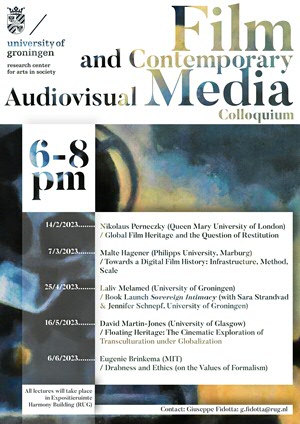 This event is part of the Film and Contemporary Audiovisual Media research colloquium of the Research Centre for Arts in Society.
For more information, contact Giuseppe Fidotta: g.fidotta rug.nl
Abstract
While we can no longer claim that the digital is a radically new development, it does not seem to have made larger inroads in the field of film history so far, at least not in conceptual terms. I want to argue that we have not really understood – and implemented - "the digital" if we continue to see it as a largely technological process in which we basically transfer our sources and methods from the analogue to the digital.
As a beginning to a necessary debate, I propose the three terms "infrastructure", "method" and "scale" as both focal points for further discussions, as well as fields of action where changes can be made, if we want to seriously take advantage of the chances and affordances that the digital offers. We need not only a new theoretical understanding of infrastructure, method and scale, but also a new practice of dealing with these factors, as well as creative ways of engaging with them. Taking the digital seriously consequently does not mean to simply step across a threshold (i.e. to put something on a scanner and turn it into a file), but it implies a continuous transformative movement that we have to integrate into our field.
About the speaker
Malte Hagener is Professor in Media and Film Studies at Philipps-Universität Marburg. He is the director of the Marburg Center for Digital Culture and Infrastructure (MCDCI), project leader of the DFG-funded project "media/rep/ – Institution of an Open Access-repository for media studies", principal investigator of the graduate research group "Configurations of film", speaker of the project Digital Cinema-Hub and co-speaker of the consortium "NFDI4Culture. Consortium for Research Data on Material and Immaterial Cultural Heritage". Awarded with the Swedish-German Research Award 2016 by Riksbanken Jubileumsfond and Alexander-von-Humboldt-Stiftung (2016/17 in Karlstad). Author of Moving Forward, Looking Back. The European Avant-garde and the Invention of Film Culture, 1919-1939, Amsterdam University Press 2007, co-author (with Thomas Elsaesser) of Film Theory. An Introduction through the Senses (Routledge 2010, 2 nd revised edition 2015), co-editor of Handbuch Filmanalyse (Wiesbaden: Springer 2020; with Volker Pantenburg) and of Histories of Film History (Amsterdam University Press 2023; with Yvonne Zimmermann).