CANCELLED DUE TO STRIKE - FACAM colloquium - NIKOLAUS PERNECZKY (Queen Mary University of London): "Global Film Heritage and the Question of Restitution"
| | |
| --- | --- |
| When: | Tu 14-02-2023 18:00 - 20:00 |
| Where: | Exposition room, Harmonie building |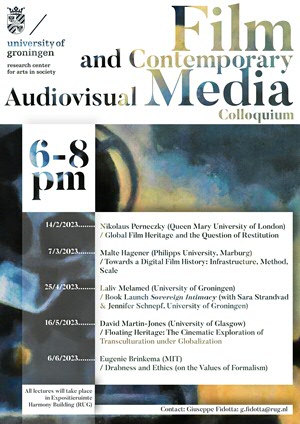 This talk has been cancelled due to strike action. We (the researchers of FACAM) stand in solidarity with our colleagues at Queen Mary University of London and in the rest of the UK who are taking industrial action against attacks on their pay, working conditions, and pensions.
This event is part of the Film and Contemporary Audiovisual Media research colloquium of the Research Centre for Arts in Society.
For more information, contact Giuseppe Fidotta: g.fidotta rug.nl
Abstract
As calls for the restitution of looted artefacts from Western museums and ethnological collections multiply, what about similarly sequestered film heritage? Calls for the restitution of moving images have been articulated as early as 1958 as an intrinsic part of the process of decolonisation, and restated by filmmakers and cultural activists ever since. As a case in point, to this day, a large part of colonial and post-colonial African film heritage is held—and frequently monetised—by public and commercial archives in Europe, where these important works remain largely inaccessible to African scholars, filmmakers, and wider publics alike. Tracing the history of moving image restitution since the 1950s, this paper has two broad aims: firstly, to make visible the (neo-)colonial legacies that have shaped the archival log(ist)ics of global audiovisual archiving in order to suggest concrete strategies of redress; secondly, to explore both challenges and possibilities arising from the conjunction of "restitution"—a concept elaborated in relation to irreproducible artefacts and human remains—with the technical object of film after the digital turn. I will offer a critical reading of institutional paradigms such as "digital access", "shared heritage", and "archival cooperation" which are frequently proffered as solutions to the problem of displaced and sequestered film heritage. Following the Benin-born filmmaker Paulin Soumanou Vieyra and others who have since argued for (or were otherwise engaged in) moving image restitution, I will propose as an alternative horizon the idea of "reparation as worldmaking."
About the speaker
Nikolaus Perneczky is a Leverhulme Early Career Fellow at Queen Mary University of London. His PhD project at Goldsmiths, University of London, drew on original archival research to reappraise filmmaking in post-independence West Africa as a challenge to discourses and practices of "development". His current research considers colonial legacies of uneven development and unequal exchange in global audiovisual archiving through the lens of restitution.