AMMI colloquium - PETE PORTER (Eastern Washington University): "From Marching Penguins to Octopus Teachers: Film and Animal Studies in the New Century"
| | |
| --- | --- |
| When: | Tu 10-01-2023 18:00 - 20:00 |
| Where: | Exposition room, Harmonie building |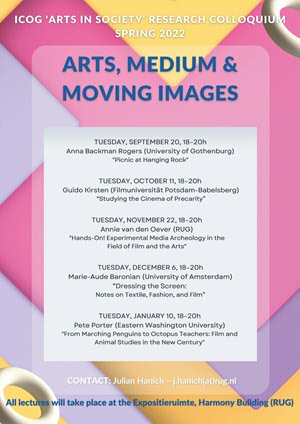 This guest lecture is part of the Arts, Media and Moving Images research colloquium of the Research Centre for Arts in Society.
For more information, contact Julian Hanich: j.hanich rug.nl
Abstract
From Marching Penguins to Octopus Teachers explores how engagements with nonhuman animal beings in screen stories evolved in the 21st century from confluences of technology, practice, and, most importantly, conception. What distinguishes these engagements is how they embrace empathy and entanglement with animal others, how they acknowledge human continuity with other species, and how they champion bioinclusivity over anthropocentrism. Perhaps most centrally, these films seek to represent and appreciate other beings rather than to distort and dominate them. Ultimately, these new engagements suggest a new ethics as much as they do a new poetics of screen stories. Such engagements have grown more prominent in the new century, popularized by films such as March of the Penguins (2005), Rise of the Planet of the Apes (2011), Blackfish (2013), Okja (2018), My Octopus Teacher (2020), Cow (2021), and EO (2022).
About the speaker
Dr Pete Porter is a Professor of Film in the Department of Fine and Performing Arts, where he also serves as Chair, at Eastern Washington University. For 2022-23, Porter is a visiting research fellow at University of Groningen. His current project is Moving Animals: from Marching Penguins to Octopus Teachers, a book-length study of how recent films have invented aesthetic and ethical strategies that move beyond instrumentalist and anthropocentric conceptions of nonhuman animals. Porter currently serves as Film Review Editor for Society & Animals, an international journal of Human-Animal Studies and as President of the Contemporary Arts Alliance, which oversees the Spokane International Film Festival, where he serves as programmer and outgoing Director.