AMMI colloquium - ANNIE VAN DEN OEVER (UG): "Hands-On! Experimental Media Archaeology in the Field of Film and the Arts"
| | |
| --- | --- |
| When: | Tu 22-11-2022 18:00 - 20:00 |
| Where: | Exposition room, Harmonie building |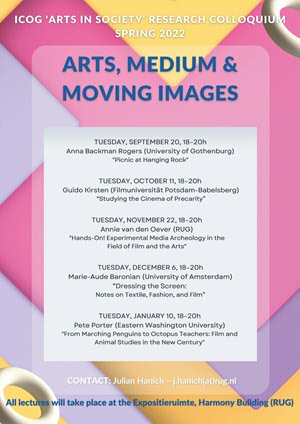 This lecture is part of the Arts, Media and Moving Images research colloquium of the Research Centre for Arts in Society.
Abstract
In her talk, Annie van den Oever will focus on the new forms of media archaeology she developed in her close collaboration with the Luxemburg researcher Andreas Fickers. The experimental media archaeology they propose has both an archival and an experimental drive. In the broader field of media archaeology, they developed new forms of historical re-enactment hands on as a method to produce sensorial knowledge regarding past media usages, developments, and practices. Emblematic examples developed within the research context of the Film Archive & Media Archaeology Lab in Groningen will provide material for a discussion of the aims and value of this new approach for academic research and teaching.
About the speaker
Annie van den Oever is Director of the Film Archive & Media Archaeology Lab and Associated Professor of Film at the University of Groningen. She is also Professor by special appointment for "Film and Visual Media" at the University of the Free State, South Africa. She is the foundational series editor of The Key Debates: Mutations and Appropriations in European Film Studies published by Amsterdam University Press. Her books include: Life Itself (2008), Sensitizing the Viewer: The Impact of New Techniques and the Art Experience (2011), Foundational Questions for a Film and Visual Media Programme (inaugural lecture, 2014); and Doing Experimental Media Archaeology: Theory (2022), written with Andreas Fickers. She edited Ostrannenie (2010); Technē/Technology (2014); Exposing the Film Apparatus (2016, with Giovanna Fossati); and Stories (2018, with Ian Christie).
Doron Galili from the University of Gothenburg will step into the debate as a respondent.
For more information, contact Julian Hanich: j.hanich rug.nl