AMMI colloquium - ANNA BACKMAN ROGERS (University of Gothenburg): "Picnic at Hanging Rock"
| | |
| --- | --- |
| When: | Tu 20-09-2022 18:00 - 20:00 |
| Where: | Exposition room, Harmonie building |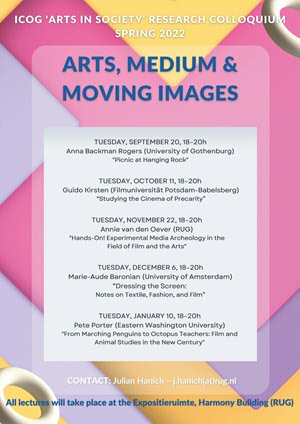 This guest lecture is part of the Arts, Media and Moving Images research colloquium of the Research Centre for Arts in Society.
Abstract
Peter Weir's haunting and allusive Picnic at Hanging Rock (1975), set in 1900, tells the story of the mysterious disappearance of three schoolgirls and their teacher on a trip to a local geological formation. The film is widely hailed as a classic of new Australian cinema, seen as exemplary of a peculiarly Australian style of heritage filmmaking.

Anna Backman Rogers considers Picnic from feminist, psychoanalytic and decolonialising perspectives, exploring its setting in a colonised Australian bushland in which the Aboriginal people are a spectral presence in a landscape stolen from them in pursuit of the white man's 'terra nullius'. She delves into the film's production history, addressing director Weir's influences and preoccupations at the time of its making, its reception and its lasting impact on visual culture more broadly. Rogers addresses the film's treatment of the young schoolgirls and their teachers, seemingly, as embodiments of an archetype of the 'eternal feminine', as objects of the male gaze, and in terms of ideas about female hysteria as a protest against gender norms. She argues that Picnic is, in fact, highly subversive: a film that requires its viewers to read its seductive surfaces against the grain of the image in order to uncover its psychological depths.
About the speaker
Anna Backman Rogers is Professor of Aesthetics, Culture and Feminist Theory at the University of Gothenburg, Sweden. Her previous publications include American Independent Cinema: Rites of Passage and The Crisis-Image (2015), Sofia Coppola: The Politics of Visual Pleasure (2019), & Still Life: Notes on Barbara Loden's Wanda (2020). She is also the co-editor of three books on feminism and visual culture and is the founder and editor-in-chief of MAI: FEMINISM AND VISUAL CULTURE.
For more information, contact Julian Hanich: j.hanich rug.nl