Conference: Funerary Inscriptions in Early Modern Europe
| | |
| --- | --- |
| From: | Th 01-09-2022 |
| Until: | Fr 02-09-2022 |
| Where: | Goethe University Frankfurt & online |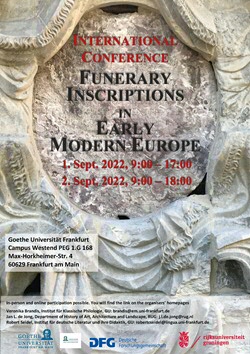 On 1 and 2 September, 2022, an ICOG sponsored and co-organized conference will take place in Frankfurt am Main, in which funerary inscriptions in Europe from the period between ca. 1400 to 1800 will be approached from various angles: their material dimension, their literary character, the content of what they are stating, their relation to portraits and (sculpted and other) decorations, and the wider cultural context in which they were created and functioned. The central questions are: how were funerary inscriptions used to shape the memory of a deceased person in a specific way? How did they create a particular image that would determine how a deceased person would be remembered and what (s)he would be commemorated for? How would this image fit in the contemporary collective culture of remembrance or in narrower spheres, as for instance specific religious groups or denominations? Or was this image meant to function within a sphere of private commemoration?
The proceedings of the conference will be published as a volume in the series Intersections. Interdisciplinary Studies in Early Modern Culture.
Programme
Information
Please contact Jan de Jong for more information, for the details of the programme, the list of speakers and the link to the conference.