AMMI colloquium - TOM GUNNING (University of Chicago): "The Cinematic Image: A Radically Novel Form"
| | |
| --- | --- |
| When: | Tu 07-06-2022 18:00 - 20:00 |
| Where: | Online |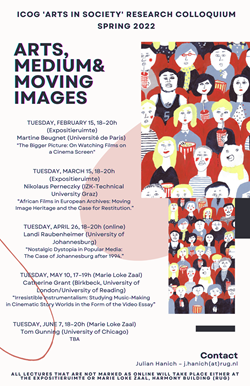 On behalf of the ICOG theme group "Arts, Medium, and Moving Images," we are thrilled to announce our final ICOG event of the academic year: a lecture by Tom Gunning (Professor Emeritus at the University of Chicago), entitled "The Cinematic Image: A Radically Novel Form." The guest lecture will take place online via Google Meet next week on Tuesday, June 07, 2022, 18–20h (CEST).
Tom Gunning is one of the most influential and most widely cited film and media scholars in the world with over 150 essays and publications on early cinema, the avant-garde, and film genres.
Abstract
In this talk Tom Gunning will investigate the novelty of the cinematic image: its quality as a profoundly different sort of representation, based in technology and the interface between spectators and an apparatus, and characterized both by being a moving image and an image that is nonmaterial, carried by light moving through space.
About the speaker
Working on problems of film style and interpretation, film history and film culture since long, Tom Gunning (University of Chicago, emeritus) has published extensively on early cinema as well as on the culture of modernity from which cinema arose, as he has argued, relating it to still photography, stage melodrama, magic lantern shows, as well as wider cultural concerns such as the World Expositions and the major technological revolutions which ushered in modernity. In his seminal studies of the "cinema of attractions", the concept he famously proposed, he set a new research agenda for early cinema studies by relating the development of cinema to other forces than storytelling, such as new experiences of space and time in modernity, the relation between cinema and technology, and an emerging modern visual culture. Film culture, the avant-garde movements, the historical factors of exhibition and criticism and spectator's experience throughout film history are recurrent themes in his work.
Registration
Registration is required.
Contact: Julian Hanich - j.hanich rug.nl