AMMI colloquium - LANDI RAUBENHEIMER (University of Johannesburg): "Nostalgic Dystopia in Popular Media: The Case of Johannesburg after 1994"
| | |
| --- | --- |
| When: | Tu 26-04-2022 18:00 - 20:00 |
| Where: | Online |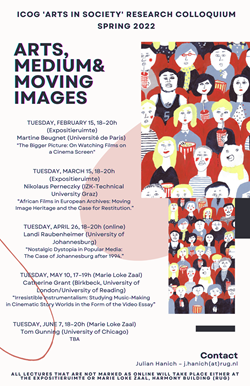 Research colloquium of the theme group Arts, Medium and Moving Images.
" Nostalgic Dystopia in Popular Media: The Case of Johannesburg after 1994 ." by Landi Reubenheimer, University of Johannesburg
With responses by Susan Aasman (Department of Media Studies) and Julian Hanich (Department of Arts, Culture and Media).
Abstract
Johannesburg is a city known by many vernacular descriptions: Egoli, 'Gangster's paradise', as a 'township metropolis', and as a mining town. Since the end of the apartheid era in South Africa, Johannesburg has come to be depicted in a different manner, however. In photography, film and popular media, the city is often portrayed as dystopian, evidencing urban decay, poverty, crime and pollution. At the same time, these depictions are nostalgic, ironically recalling the city's dark past. This portrayal of the city, which I call 'nostalgic dystopia,' is so pervasive that I would argue it constitutes a visual idiom that emerges in post-apartheid depiction of the city, and which warrants further investigation. In this talk I consider pertinent portrayals of the city as nostalgic dystopia, probing their formal features and aesthetic effects in order to scratch at the surface of this emerging idiom.
About the speaker
Landi Raubenheimer is an academic and artist based in Johannesburg, South Africa. She is currently Senior Lecturer in the Faculty of Art, Design and Architecture at the University of Johannesburg, where she teaches in the interdisciplinary theory module of Design Studies, and supervises Masters students in Art and Design. She has published on art, media and spectatorship in journals such as Critical Arts, Image & Text, the Journal of Literary Studies and de arte. She is also a practicing artist working with paper-making, who has exhibited work in South Africa, Italy, France and Japan. She is interested in the intersections between landscape, media technologies and aesthetics.
Registration
Contact: Julian Hanich - j.hanich rug.nl