AMMI colloquium - MARTINE BEUGNET (University of Paris): "The Bigger Picture: On Watching Films on a Cinema Screen"
| | |
| --- | --- |
| When: | Tu 15-02-2022 18:00 - 20:00 |
| Where: | Exposition room, Harmonie building |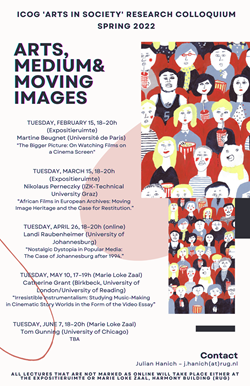 Research colloquium of the theme group Arts, Medium and Moving Images.
"The Bigger Picture: On Watching Films on a Cinema Screen." by Dr. Martine Beugnet, Université de Paris
Abstract
If television and the VHS player did not manage to kill the cinema (film watched collectively, on a large screen), the computer, the tablet and finally the mobile phone may succeed in consigning it to the past. Does it matter? In this talk, I would like to consider the relationship between the cinematic film (distinguished from moving image productions originally shot for a different mode of exhibition) and the large screen, focusing on three, interconnected aspects of the experience of watching films on a big screen: film as a mirror for the collective, haptic immersion, and offscreen space.
About the speaker
Martine Beugnet is Professor in Visual Studies at the Université de Paris and a member of the Laboratoire de Recherche sur les Cultures Anglophones (LARCA). She has written articles on a wide range of film and media topics and authored several books on contemporary cinema. The most recent include: L'attrait du flou (2017), the edited volume Indefinite Visions: Cinema and the Attractions of Uncertainty (2017, with Allan Cameron and Arild Fetveit), and Le cinéma et ses doubles: L'image de film à l'ère du foundfootage numérisé et des écrans de poche (2021). She co-directs, with Kriss Ravetto, the Edinburgh University Press series Studies in Film and Intermediality.
Contact: Julian Hanich - j.hanich rug.nl