AMMI colloquium - BERENIKE JUNG (University of Groningen): "Mimetic Listening on TikTok's 'Attractions'"
| | |
| --- | --- |
| When: | Tu 11-01-2022 18:00 - 20:00 |
| Where: | Exposition room, Harmonie building |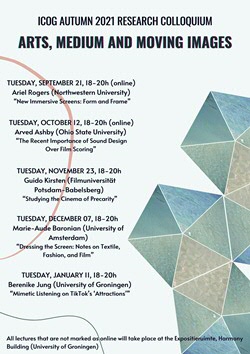 Research colloquium of the theme group Arts, Medium and Moving Images.
"Mimetic Listening on TikTok's 'Attractions' " by Berenike Jung, University of Groningen
Abstract
In this talk, Dr. Jung presents her research on the pleasures and aesthetic possibilities of the app TikTok, focusing on those genres that attest to the app's non-narrative and lip-sync roots. Building key concepts from film, media, and game studies, she will offer several preliminary hypotheses on ways in which these videos speak to how voice and dance operate in our contemporary experience. Not only do many TikTok videos shift attention from the visual towards the auditive, but they also extend a performative and mimetic invitation, a sensorial appeal to the body of the spectator: to move, to dance, and to sing. The kinaesthetic intensity of a dancing body is heightened through music and corresponding visuals, and the focus on a soundbite's danceable texture elicits a different experience of listening. Notwithstanding questions of appropriation and malevolent uses of voice-body-assemblages, the particular affordances of the app tend not to disguise the difference or tension between the bodies we see and the voices we hear.
As we encounter these videos on our cell phone touchscreens, she is interested in shifting the conversation away from notions of depthless surface, and towards locating potential in these suturings of bodies and voices.
About the speaker
Berenike Jung teaches Film Studies at the University of Groningen. Previously, she worked as a lecturer in Film Studies at King's College London and at the Institute of Media Studies at the University of Tübingen. Her monograph The Invisibilities of Torture: The Presence of Absence in US and Chilean Cinema and Television was published with Edinburgh University Press in 2020. She edited the volume Beyond the Rhetoric of Pain with Stella Bruzzi (Routledge, 2018), co-edited an issue for the peer-reviewed journal G/A/M/E on "Video Game Agency" (08/2019), and published essays on transnational cinema, and the representation of trauma, violence, and war in film and media.