AMMI colloquium - GUIDO KIRSTEN (Filmuniversität Potsdam-Babelsberg): "Studying the Cinema of Precarity"
| | |
| --- | --- |
| When: | Tu 23-11-2021 18:00 - 20:00 |
| Where: | Exposition room, Harmonie building |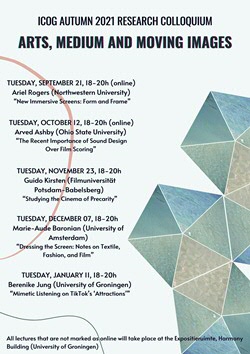 Research colloquium of the theme group Arts, Medium and Moving Images.
"Studying the Cinema of Precarity" by Guido Kirsten, Filmuniversität Potsdam-Babelsberg
Abstract
Over the last decades, precarity has become an almost ubiquitous phenomenon in Western societies. Already in 1998, Pierre Bourdieu famously claimed that 'precarity is everywhere now'; since then it appears to have increased further. Unsurprisingly, a 'cinema of precarity' has emerged at the same time: a corpus of films that capture the feeling of economic and existential insecurity and its underlying causes. The term 'cinema of precarity' was introduced in 2011 by the late Laurent Berlant in reference to films by Laurent Cantet and the Dardenne brothers, with an emphasis on form and affect. In his talk, Guido Kirsten discusses Berlant's concept and develops three lines of inquiry with regard to a wider understanding of the 'cinema of precarity': poetics, impact studies, and discourse analysis.
About the speaker
Dr Guido Kirsten is the principal investigator of the Emmy Noether Research Group 'Cinematic Discourses of Deprivation: Analysing the Representation of Precarity and Exclusion in European Fiction Film and Documentary' at the Film University Babelsberg KONRAD WOLF (Potsdam). He is the author of books on cinematic realism (2013) and on the notion of découpage (forthcoming in spring 2022). Together with Margrit Tröhler he edited Christian Metz and the Codes of Cinema (2018, Amsterdam University Press). Forthcoming is Precarity in European Film, the first volume in the newly created book series 'Film, Class, Society' (DeGruyter), edited by Kirsten and his collaborators Hanna Prenzel and Elisa Cuter.