Pop and Populism - EVIANE LEIDIG (International Centre for Counter-Terrorism): "Reject modernity, Embrace traditionalism: Gendered narratives in alt-right online recruitment and radicalization"
| | |
| --- | --- |
| When: | Th 23-09-2021 16:00 - 18:00 |
| Where: | Online |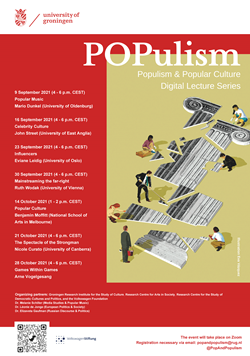 POPulism: Popular Culture and Populism is an interdisciplinary online lecture series that brings together leading international scholars and practitioners from different disciplinary backgrounds to give insights into the various forms of interactions between populism, the radical right, and popular culture.
Populism builds on a worldview based on the antagonistic opposition of 'the good people' and the 'corrupt elite', and is often connected to ideologies such as nativism, misogyny, authoritarianism, and racism. In their attempt to redefine cultural hegemony, populists make use of cultural strategies; leaders, parties and movements often explicitly draw on popular cultural means to disseminate their ideologies, for instance, by using social media, internet memes, and computer games.
From popular music, performance, and celebrity politics, to normalization, online recruitment, and mobilization, the speakers of POPulism explore the relationship between culture and populism, unpacking how it can both promote and challenge populist and radical right discourses.
Abstract
This talk is based on a forthcoming book exploring the role of female alt-right influencers who have gained social media popularity. These influencers use mainstream platforms, such as Instagram and YouTube, in order to build audiences through recruiting and radicalizing followers using gendered narratives of femininity and masculinity. At the core of their message is modeling a 'tradwife' (or traditional wife) lifestyle centred on issues of dating, relationships, marriage, and family life. Through promoting such narratives and related activities, these female alt-right influencers are key propagandists, organizers, and fundraisers for the cause.
In order to challenge the growth of the alt-right, this talk concludes by putting forward solutions for how we can counteract this influence through online and offline approaches.
About the speaker
Dr. Eviane Leidig is a Research Fellow at the International Centre for Counter-Terrorism in The Hague, and an affiliate at the Center for Research on Extremism at the University of Oslo. Her research specializes in the far right, gender, and online radicalization, recruitment, and propaganda. She serves as Head of Policy at the Center for Analysis of the Radical Right and is an Associate Fellow at the Global Network on Extremism & Technology.
Eviane regularly contributes to international media outlets and consults for policymakers and civil society organizations, having delivered talks for the U.S. Department of State, the European Commission, national and regional intelligence agencies, and the Global Internet Forum to Counter Terrorism. For more see her personal website, evianeleidig.com.
Registration
Registration is required. After registration, you will receive the Zoom link via email.
Register: send an email to popandpopulism rug.nl