AMMI colloquium - ARIEL ROGERS (Northwestern University): "New Immersive Screens: Form and Frame"
| | |
| --- | --- |
| When: | Tu 21-09-2021 18:00 - 20:00 |
| Where: | Online |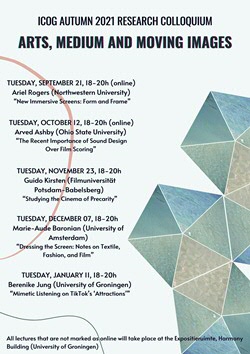 Research colloquium of the theme group Arts, Medium and Moving Images.
"New Immersive Screens: Form and Frame" by Dr Ariel Rogers, Northwestern University
Abstract
Virtual reality (VR) is often situated within a genealogy of immersive media across art, theatre, and film that are taken to eliminate or transgress a frame (whether aligned with a picture frame, a proscenium, or the edges of a screen). This talk, however, asks how we might instead consider VR and other immersive media as transforming the frame. To do this, it proposes that we move beyond thinking of the frame as a delimited view (and thus beyond the metaphor of the window) and focus instead on its basic operations, which have to do with supplying means of organization and delimitation. This shift in perspective makes it possible to analyze the framing function of even the most immersive of media, and it offers means of rethinking the parameters, operations, and histories of mediatic form.
About the speaker
Dr Ariel Rogers is Associate Professor in the Department of Radio/Television/Film at Northwestern University and Director of Graduate Studies, Screen Cultures Program. Internationally, she is renowned for research on movie technologies, new media, and spectatorship.
She is the author of Cinematic Appeals: The Experience of New Movie Technologies (2013) and On the Screen: Displaying the Moving Image, 1926-1942 (2019), both published by Columbia University Press. Her work on topics such as widescreen cinema, digital cinema, special effects, screen technologies, and virtual reality has also appeared in edited collections and journals including Cinema Journal, Film History, montage AV, and Screen.
Registration
Please register to attend this guest lecture.