Pop and Populism - JOHN STREET (University of East Anglia): "Populism, popular culture and celebrity politics"
| | |
| --- | --- |
| When: | Th 16-09-2021 16:00 - 18:00 |
| Where: | Online |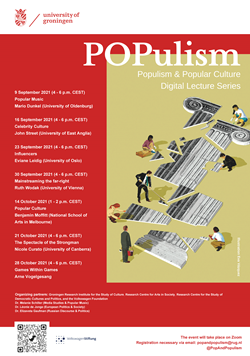 POPulism: Popular Culture and Populism is an interdisciplinary online lecture series that brings together leading international scholars and practitioners from different disciplinary backgrounds to give insights into the various forms of interactions between populism, the radical right, and popular culture.
Populism builds on a worldview based on the antagonistic opposition of 'the good people' and the 'corrupt elite', and is often connected to ideologies such as nativism, misogyny, authoritarianism, and racism. In their attempt to redefine cultural hegemony, populists make use of cultural strategies; leaders, parties and movements often explicitly draw on popular cultural means to disseminate their ideologies, for instance, by using social media, internet memes, and computer games.
From popular music, performance, and celebrity politics, to normalization, online recruitment, and mobilization, the speakers of POPulism explore the relationship between culture and populism, unpacking how it can both promote and challenge populist and radical right discourses.
Abstract
Dominic Cummings, Prime Minister Boris Johnson's erstwhile senior adviser, recently described No 10 Downing Street as 'a branch of entertainment.' This is not the first time that high office and entertainment have been linked, and it will not be the last. It is typically offered as a glib insult, but it hides an important truth about contemporary electoral politics. Winning depends on being 'popular'. But political popularity comes in many forms, of which populism is just one and celebrity just another.
This lecture explores what it means to be popular, and the different cultural and political guises it can take.
About the speaker
John Street is Professor of Politics at the University of East Anglia. His most recent books include Media, Politics and Democracy (3rd edition), From Entertainment to Citizenship: politics and popular culture (with Sanna Inthorn and Martin Scott), and Music and Politics. He is currently leading a research project on the history and politics of the English protest song.
Registration
Registration is required. After registration, you will receive the Zoom link via email.
Register: send an email to popandpopulism rug.nl