2016 Heymans symposium
The Heymans symposium is organized for the department of Psychology, with interesting talks and poster presentations by colleagues of our own department. For an impression read what Psychology students Lea, Vladimir and Florian wrote about this years event in 'Heymans symposium 2016: A student's perspective'
Very exciting every year are the announcements of the winners of the 2015 Snijders-Kouwer prize, the Poster prize and the best Mindwise blog post of 2016.
Heymans Talks line up (see all video's on the Heymans Talks page)
Keynote Block Talk
Letting Go By Going Big
*Dr. Brian Ostafin - Clinical Psychology & Experimental Psychopathology
The emotion of awe involves response to perceptually vast stimuli and has traditionally been thought to be a central element of religious experience. Such experiences have been described as justifying existence, including the experience of unjust suffering. I will discuss research that examines the relation between awe and forgiveness of transgressors
HI Talks
We Need The Null!
*Dr. Don van Ravenzwaaij - Psychometrics and Statistics
The vast majority of statistical inference in psychology is based on a variant of Null Hypothesis Significance Testing. A problem with this kind of inference is that it does not explicitly test the alternative hypothesis. In this talk, I will illustrate why it is important to specify your alternative hypothesis and why you should directly compare your null and alternative hypotheses against one another.
The Capricious Veil Of Childhood Amnesia
*Dr. Ineke Wessel - Experimental Psychotherapy & Psychopathology
Typically, early childhood experiences are not remembered. A consistent finding in Western cultures is that the average age in adults' first memories is 3 - 3.5 years. In this talk I will argue that the boundary of childhood amnesia is more flexible than commonly thought.

Solving the surveillance dilemma
*Marko Milovanovic, MSc - Social Psychology
Surveillance is a double-edged sword of social influence. Very effective on the short-term, but destructive to motivation on the long term. We investigate how surveillance affects pro-environmental behaviour and intrinsic motivation in a group context, and show how group identification counteracts the extrinsically motivating effect of surveillance.
How Complex We Really Are: Wii Show You
*Dr. Ralf Cox - Developmental Psychology
People are complex, that is as true as 1 + 1 = 2. But what does it tell you? How can you know? And what about two, are two people more complex than one? Not necessarily. It turns out that in complexity 1 + 1 = 1, rather than 2.
The Consequences Of Education
*Dr. Toon Kuppens - Social Psychology
People's level of formal education is related to a wide range of economic and psychological outcomes. It is therefore surprising that the effects of education have not been studied more in psychology. I focus on whether education can form the basis of a group identity and how people evaluate higher and lower educated groups and individuals. I argue that the democratization of education has had (unintended?) psychological and ideological consequences .
Getting better with age?
*Dr. Susanne Scheibe - Organizational Psychology
Increasingly, people need to work longer – how well are they prepared to meet this challenge? In this talk I will present emerging evidence that older workers have emotional strengths that help them stay well and be effective at work.
Brains, attention and reward!
*Berry van den Berg, MSc - Experimental Psychology/Neuro Imaging Centre
Both attention and reward can boost behavioral performance, but how? I will explore electrophysiological recordings to gain better understanding of the underlying neural mechanisms by which attention and reward improve behavioral performance
When everybody talked about brainwashing
*Dr. Maarten Derksen - Theory and History of Psychology
In the 1950s everybody talked about how the Communists could turn people into obedient puppets, with their terrifying new mind control technique: brainwashing. Psychologists and other scientists tried to find out how it worked. They discovered that control is only half the story.
Snijders-Kouwer prize winner talk
*by dr. Ruud den Hartigh
The 2015 Snijders-Kouwer prize was awarded by this years jury (dr. Marijn van Dijk, Josefine Geiger, MSc, Leonie Krueze, MSc, dr. Don van Ravenzwaaij and dr. Eric Rietzschel). The winning article reference:
Den Hartigh, R.J.R., Van Geert P.L.C., Van Yperen, N.W., Cox, R.F.A., & Gernigon, C. (2016). Psychological momentum during and across sports matches: Evidence for Interconnected time scales. Journal of Sport & Excercise Psychology, 38(1), 82-92.
Explore the University Research database for additional information on the 2016 SK prize article and other publications.
Dr. Ruud den Hartigh also won the Mindwise prize for the best blog according to the readers of Mindwise, the blog showcasing the work from the Psychology department in Groningen. Read his post Can We Crack the Secrets of Talent and Excellence? and have a look at the many other interesting posts on http://mindwise-groningen.nl/
The 2016 Poster jury had to choose from twenty-six posters competing for the award. Please click on the poster image to enlarge and read Dorien Bangma's 'The effects of age on multiple aspects of financial decision making'. Dorien is a PhD student with Clinical & Developmental Neuropsychology. Her supervisors are prof. dr. Oliver Tucha, dr. Lara Tucha and dr. Janneke Koerts.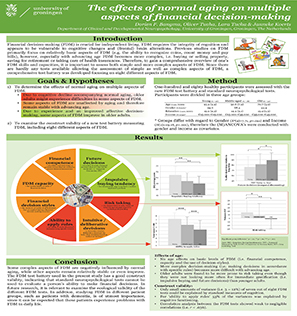 | | |
| --- | --- |
| Last modified: | 28 July 2022 4.01 p.m. |