Testimonial Melanie Bakema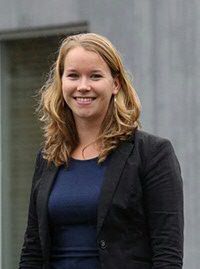 My name is Melanie Bakema and I did my PhD at the Faculty of Spatial Sciences, University of Groningen, in double degree with the Department of Earth and Environmental Sciences, University of Leuven, Belgium. I grew up on the island of Ameland in the North of The Netherlands. I conducted my studies at the Faculty of Spatial Sciences. Because of my interest in research and interdisciplinary studies, I chose to enroll in the Research Master Regional Studies. During my master, I became more and more interested in disaster studies. I did a literature study on post-earthquake recovery processes for an OECD project on the city of L'Aquila in Italy for prof. Philip McCann, and I went to New Zealand to do field research for my master thesis on the recovery process after the earthquakes that hit the city of Christchurch.
As I was really keen on continuing with this fascinating topic, I applied for an Ubbo Emmius PhD position. I was still living in New Zealand when I had my job interview through Skype. I was really happy when I heard that I could do my PhD on 'Disaster Governance' at the Faculty of Spatial Sciences! I could continue with my interests that were triggered during my master studies.
Growing up on the island of Ameland made me aware of the interrelationship between humans and their natural environment and the threats unfolding from this. In my PhD research, I could delve into these socio-natural challenges by focusing on three cases that were hit by a disaster: Christchurch, New Zealand, after the earthquakes in 2010 and 2011, Chiloé, Chile, in the aftermath of the ISA salmon epidemic in 2008 and 2009, and Groningen, The Netherlands, during the earthquakes and related problems since roughly 2012. I explored how governance systems can be created for resilient and sustainable longer-term recovery processes after disasters and I looked into the governance roles of various public, private and civil society institutions in different phases after a disaster. As such, I did an international PhD research in which I had the opportunity to go abroad several times. The research stays in New Zealand and Chile, but also the international conferences in which I could participate, really enriched my PhD trajectory.
After four years of doing my PhD, I started with orientating on what I wanted to do after my PhD. Although I really liked working in the academic world, I wanted to broaden my experience towards policy and practice. Continuing with my field of expertise and interest, I started with my current position as policy advisor for crisis management at Veiligheidsregio Groningen (Safety Region Groningen). Here, I advise the board – the mayors of the Groninger municipalities – about potential risks and crises that can hit the province of Groningen. In my current job, I work together with a team, am engaged in a network of public, private and civil society actors, and do analysis and give advice about a wide range of developments that potentially pose a risk to society.
Despite the very different character of my current work compared to doing a PhD, I feel that I benefit a lot from the experiences of having done a PhD. To put it concretely, as a PhD researcher you are trained to select relevant information from a whole lot of data, are able to translate this to important advise or analysis, are trained to maneuver between different interests, people and organizations, and are used to work independently. Moreover, building a network – national but also international – helps a lot in your career after the PhD. I think it is very valuable to get acquainted with bureaucratic and financial issues during your PhD (although it can be very annoying!), for instance when applying for research funding as I did for the Erasmus Mundus Fund. This makes you responsible for the administration of your work beyond being a PhD student.
Doing a PhD can be quite a bumpy ride. It is a process through which you as a researcher go by yourself. Especially due to the fact that you work a lot individually, I found it very important to have a nice and motivated group of colleagues around me. We could share a lot of work-related issues with each other, but maybe even more important, we really developed a group of friends. Starting and completing a PhD research highly depends on your personal motivation. For me, it worked really good to stay positive, to not get stuck in frustration, but to really make the best of it. Make use of your inspiration when you have it, whether it is 8 o'clock in the morning or 11pm at night. Do not get frustrated when writing does not work, do some administration, go for a walk or coffee, and start writing again when you have the necessary inspiration. I really liked my time at the faculty, both as a bachelor and master student, and as a PhD researcher. I hope to keep my contacts warm with the faculty, who knows what happens in the future, and I wish that all future PhD students get the opportunities to conduct a great PhD!
| | |
| --- | --- |
| Last modified: | 27 February 2019 07.00 a.m. |